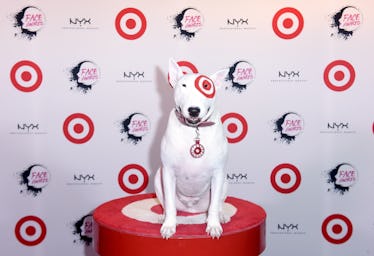 Target's Cyber Monday Sale Will Get You Extra Deals For The Holidays
Vivien Killilea/Getty Images Entertainment/Getty Images
Sure, Thanksgiving is great for kicking back with the siblings, catching up with relatives, and eating ridiculous amounts of food, but we all know what it's really about: those sweet sweet deals. Get ready because Target's Cyber Monday 2018 sale gets you an extra 15 percent off your purchase at Target.com. Sign. Me. Up.
What's better than Black Friday? Cyber Monday of course. Instead of bundling up in your most ostentatious winter coat and waiting in lines forever, you get to shop all the best deals from the comfort of your bed (and if you're anything like me, cozied up in a unicorn onesie). Target is always such a fun place to shop, no matter what you start out looking for, you always end up with 10 more things in your cart. Get your wallet ready, because I suspect a lot of splurges when Target kicks of their annual Cyber Monday on Nov. 26. Target's 15 percent off sitewide deal is somewhat of a tradition for the company, since its been offered the past few years. That code will go live sometime in the wee hours of Monday morning, or even Sunday night, and expire at midnight.
If for some reason you like dragging your pie-stuffed body out into the cold for Black Friday deals, Target has got you covered there too. According to their Black Friday circular, the doors opened at 5 p.m. ET on Thursday, Nov. 22, closed at 1 a.m. ET on Friday, Nov. 23, then re-opened Friday at 7 a.m. ET. You might want to get there ASAP if you haven't already, because some of their deals are really too good to miss.
If you've been eyeing a Fitbit and are set to make a New Year's resolution to be more active, Target will be selling the Fitbit Versa — which usually retails for about $200 — for $149. Personally, I'm always on the hunt for discounted kitchen appliances in my everlasting journey to be channeling Julia Child at all times. If that's your Black Friday agenda too, Target is selling the KitchenAid Professional 5-quart stand mixer for $219.99 — it usually retails for about $450, people. I'm sorry if I've bored you with my home appliance talk, I'll give the people what they want: iPhone deals. From Friday, Nov. 23 to Sunday, Nov. 25, Target is offering a free $150 gift card when you purchase one of the new iPhones, with activation through Sprint, Verizon, or AT&T. It won't really cushion the blow of a nearly-a-grand purchase, but if you were looking to get one of the 2018 iPhones anyway, at least you will get some money back for it.
It's not just about major purchases, though. Target is also offering some Black Friday deals on some smaller-ticketed items. For instance, some women's and men's denim is on sale for $15 and women's cozy sweaters for $10. Also, are you ready for this? All beauty and personal care gift sets are BOGO 50 percent off. Yes, you read that correctly.
As you might have gathered, there's a lot to stock up on and your wallet is gonna hate you.