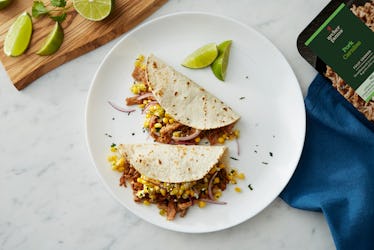 Target Just Launched A New Line Of Meal-Prep Foods That Are ALL $9 Or Less
You've probably been told time and again that one of the best ways to take care of your health is to cook for yourself. And, honestly, this is true for both your body and your wallet. If you ask me, though, there's truly no better feeling than sitting down for a tasty meal, taking a look at the delicious masterpiece before you, and thinking, "Dang, I made that." Thanks to Target's new Archer Farms food line, you can have that satisfied feeling when digging into just about all of your meals.
Look, I get it. Cooking can seem super daunting, especially if a) it's not something you're particularly interested in doing in the first place, b) it seems too expensive for your budget, or c) you just plain don't have the time to make your meals from scratch every single day — or, you know, your excuse includes all of the above. But Target's intention here is for you to mix and match some of its brand new (not to mention very cost-effective) offerings to make all different kinds of meals for yourself, and with pretty minimal effort on your part.
All you have to do is decide what you're craving, and how you want to combine the foods to satisfy your taste buds. Since pretty much all of these foods are either ready to eat as-is or can quickly be tossed in the microwave, it literally is as simple as that.
Plus, if you ask me, these foods sound pretty freaking tasty (hello, parmesan breaded chicken cutlets — and don't think I missed you, peanut butter chocolate trail mix). Oh, and did I mention that every single Archer Farms item is between $2.99 and $8.99? To say these noms are a steal would be the understatement of the year, people. But, just FYI, you do have to buy most of this stuff in-store, since a lot of it is perishable. But, really, who doesn't love a nice trip to Target?
According to a Target press release, the company launched Archer Farms to solve all of your "what's for dinner" dilemmas once and for all:
We heard from guests that they were looking for easily accessible, trend-forward and globally inspired dinnertime, lunchtime and anytime options. So, we got to work creating an expansive array of delicious new items, including ready-to-heat meats, salads, pasta, sides and soups—all priced between $2.99 and $8.99! And they're all available at your local Target now.
The press release also mentioned a survey from The Hartman Group, which found that 53 percent of dinners are planned within an hour of eating them. IMO, an hour is generous; for me, it's more like I'm eating something within 10 minutes of deciding it'll do for dinner, but I digress.
I'm honestly starving reading about the new offerings from Archer Farms, y'all. With foods like burrata lemon zest herb ravioli, vegetarian pumpkin bisque, and apple pecan quinoa salad, there's legit something for everyone to enjoy.
What's more, if you don't feel like putting in the effort to mix-and-match for your meals, the ol' red bullseye has you covered on that front, too. Target has prepared some pretty delish recipes for you to follow on its blog — like these yummy-in-my-tummy pork tacos:
This bad boy calls for Archer Farms' Mexican street corn salad, pork carnitas, a little cilantro if you're feelin' the herb, and some tortillas. That delicious meal couldn't possibly take more than, like, 10 minutes to assemble, so you'll be pressing play on Netflix and enjoying your dinner in no time, my friend.