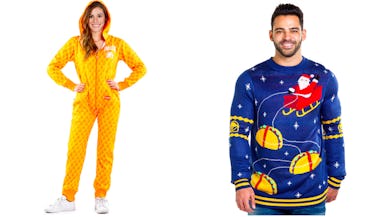 Taco Bell Has A New Holiday Collection To Spice Up Your Holiday Shopping
Maybe this is just coming from my tendency to overthink absolutely everything, but Christmas shopping for your bestie can be really, really tricky — you want to buy them the entire world, but you only have so much dough in that bank account of yours. So, since a full-blown shopping spree might not be in the cards right now, you should check out Taco Bell's Holiday Collection to spice up that spot under the tree. It includes three different Hot Sauce Packet onesies for — you got it — your mildest, hottest, and even your fieriest BFF.
On Wednesday, Nov. 28, Taco Bell came out with an entire Taco Bell Holiday Collection, according to a press release, and it's here just in time for Christmas. Whether you're looking to sleep in style, spice up your wardrobe, or even upgrade your home, there are so many different goodies you can get for yourself and your loved ones this holiday season. And, lucky for you, everything is under $100. Yep — it's a freakin' burrito-lovin' miracle.
First, there are the T-Bell onesies, and they're my personal favorites. You can snag one in Mild, Hot, and Fire, depending on how spicy your recipient is feeling. Each comes in the sauce's designated color, along with a sassy tagline on the back, and if you ask me, it's the ideal gift. For only $78 each, they're not totally a steal, but it'll be worth it when your bestie is cozy and warm this holiday season.
Next come the funky holiday sweaters, spreading Christmas cheer for all to hear for only $59 each. They're offering men's and women's Santa sweaters, showing off Santa driving a taco-led sleigh. Then, there's a "classic" holiday sweater, with several small tacos surrounding the iconic Taco Bell. Finally, there's a Taco Tree sweater, because there's no way to celebrate without salsa. IMO, there's no better way to stay warm this winter without one.
Deck out your closet with a variety of sweet $25 tees (my personal favorite is "'Tis The Season To Be Saucy"), or give the gift of sleep with Sauce Packet pajama pants for $40 and pajama shorts for only $35. Everyone knows that socks are the greatest gift of all, however, and thankfully, you can choose between Fire Sauce Packet Holly Socks, or Sauce Packet Holiday Light Socks, both going for only $15. They're totally groovy, baby, and your feet will feel absolutely fantastic.
If you're looking to upgrade your living space, on the other hand, you can add an tasty accent to your living room with an Ultra Plush Burrito Wrap Blanket ($40), a Hot Sauce Packet Pillow ($20), or even with a selection of spirited mugs ($10). Don't forget to send them along with a card, though — you can choose between a Sauce Packet Holiday Greeting Card, or even a Taco Bell Holiday Sweater Greeting Card for only $3 each.
So cool, right? My online cart is filled to the brim right now, TBH.
If you love reppin' your fave Tex Mex spots on the reg, though, you most likely got in on Chili's' Cyber Monday online pop-up shop sale. They sold a The Office-themed shirt, a bathing suit, a queso bomber jacket, and even cufflinks. It was definitely something you wouldn't have wanted to miss.
The holidays are coming up quickly, and if anyone on your list simply enjoys living más, Taco Bell's Holiday Collection should be your prime shopping destination. Each and every one of these glorious items will most definitely give your giftees something to taco 'bout this holiday season (get it?). So, get in on it before it's gone.