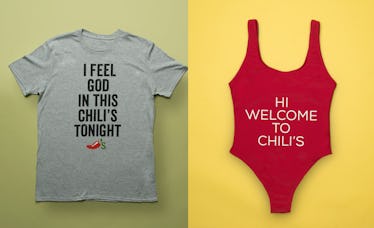 Chili's Is Selling Merch Online This Cyber Monday For Some Spicy Additions To Your Closet
Chili's
Cyber Monday shopping always ends up being quite the glorious experience, but sometimes, it can get a little monotonous. I know that sounds a little wild, but hear me out — I always end up browsing the same old stores, starting at Target, then going to Best Buy, Walmart, and, of course, Amazon. While each destination always has absolutely everything I could ever need, sometimes it feels good to branch out, and luckily, this year, Chili's Cyber Monday pop-up store is going to be a thing, and they're selling a The Office-inspired T-shirt. I don't know about you, but I really need to get my hands on one as soon as humanly possible.
In case you didn't know, Cyber Monday falls on the Monday following Thanksgiving on Nov. 26, 2018. This year, Chili's is going all-out for the shopping-focused holiday, because for 24 hours straight, they'll have an online pop-up shop for you and your friends to get one-of-a-kind, limited-quantity Chili's merch to show your undying appreciation for the restaurant. From a hilarious T-shirt quoting The Office to a bomber jacket, a bathing suit, and even cuff links, there's definitely something for everyone, so make sure to check them out below.
I Feel God In This Chili's Tonight T-Shirt, $15
In case you don't recall, The Office's friendliest receptionist, Pam Beesly, was kicked out of a Chili's once for having a few too many "Second Drinks." This shirt is a hilarious ode to her, and TBH, the message is too real... especially if you have a really adorable pal like Jim by your side.
Skillet Queso Bomber Jacket, $75
In case you didn't know, Chili's Skillet Queso has a major cult following, and honestly, it makes sense — it's absolutely amazing. Show off your intense appreciation for the delicious dip with this equally intense bomber jacket. You know you want to.
Hi, Welcome To Chili's Swimsuit, $35
Bring your love for Chili's to the beach, to your local swimming pool, or even your apartment rooftop for a little sunbathing session. Even when you're not at Chili's, the Tex Mex chain definitely deserves a little love wherever you go... especially when you're sipping an ice cold margarita.
Chili's Cufflinks, $20
These Chili's cufflinks show that you're 100 percent ready for business, but that you're also ready to party. Wear the baby back ribs to your next meeting, the fajitas to your brother's wedding, the hamburgers to your job interview, or the margaritas to that fancy restaurant you've been waiting to go to. Regardless of where you're wearing them, they'll look great on anyone in a suit.
I don't know about you, but I literally want every single one of these items. Wow.
These gorgeous articles of clothing might remind you a little bit of Pizza Hut's "Pie Tops" sneakers the chain was selling last year. The cheesy kicks were bright red, and they had a special pizza ordering button... they were seriously magical.
Anyone who loves Chili's as much as I do should 100 percent log on to Chili's online pop-up this Cyber Monday. If you love Tex Mex, make sure to show your Chili's spirit and snag something for everyone on your Christmas list. Do it quick, though, because inventory is limited.