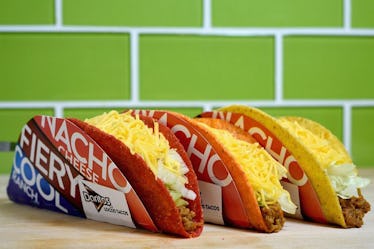 It's So Easy To Get A Free Doritos Locos Taco With Taco Bell's Online Deal
I don't know about you, but I, personally, have never been more stuffed than I was after this past Thanksgiving. I consumed not one, not two, but three (yes, three) full plates of everything I could get my hands on, followed by two hefty slices of pie for dessert. It wasn't pretty, and it basically left me in a week-long food coma. TBH, I'm not quite sure how I've lived to tell the tale. Regardless, I'm always down to get my hands on some free food, and Taco Bell is offering free Doritos Locos Tacos through the Taco Bell app. It almost sounds too good to be true, and you only have to do one simple thing to get in on it.
IMO, there's nothing better than free food — especially when it comes to Tex Mex — and Taco Bell is giving Dorito lovers the deal of their dreams. From now until Nov. 27 at 2:59 a.m. ET, Taco Bell is offering fans a free Doritos Locos Taco with the purchase of a combo or a drink, according to their website. All you have to do is sign up with your personal contact information on their website or through Facebook, and you'll receive the ever-glorious coupon by email or text. The deal is only available at participating locations for online and Taco Bell app orders only, so make sure you check with your go-to Taco Bell location before ordering ahead. This is definitely something to be thankful for this holiday season.
In case you've never gotten to try a Doritos Locos Taco before, you haven't lived. According to the Taco Bell website, the Doritos Locos Taco fills a Dorito taco shell with boldly seasoned beef, lettuce, and shredded cheese. You can also add additional tasty ingredients, such as beans for $.35, chicken for $1.30, and spicy ranch for $.30. There's seriously nothing better than a Doritos Locos Taco, and getting one for free is a seriously unreal victory.
This isn't the first time the fast food chain has offered fans free Doritos Locos Tacos — in June 2018, Taco Bell announced its third annual "Steal a Game, Steal a Taco" promo. Amidst the NBA finals, if the visiting won an away game (aka "stealing" the game from the home team), Tex Mex lovers could "steal" a Doritos Locos Taco from Taco Bell. For all my fellow non-sporty pals out there, the Golden State Warriors ended up winning in Cleveland, Ohio, which allowed fans to snag a free one on Wednesday, June 13 at all participating locations. If you didn't make it to T-Bell for your free taco, you missed out.
IDK about you, but no matter how full I am, there's no way you can keep me away from getting in on some free food. Whether it's simply a side of guacamole or if it's a full-sized taco, I'm always down to eat for free anytime, anywhere. Make sure you get in on this glorious deal before early Tuesday morning, though, because it won't be around forever. Your hot sauce packet awaits.