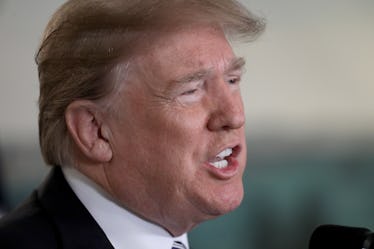 Survivors Of The Parkland Shooting Are Slamming Donald Trump For This Awful Tweet
Win McNamee/Getty Images News/Getty Images
Valentine's Day 2018 will be remembered as one of the most tragic days in United States history. On Feb. 14, a school in the town of Parkland, Florida was attacked by a mass shooter in one of the deadliest school shootings in this nation's history. Generally when tragedies happen, people look to the president for comfort and reassurance that our government is doing its best to make this nation's citizens feel as safe as possible. But President Donald Trump decided to take this tragedy and use it as a means to discredit the Russia investigation. And the survivors from the Parkland school shooting are slamming Trump for his tweet about the FBI — and the backlash is absolutely warranted.
On Feb. 14, a shooter opened fire in Marjory Stoneman Douglas High School and took the lives of 17 individuals — most of whom were students. And for some reason, Trump decided to use this tragic event to attempt to discredit the FBI and the ongoing investigation into whether or not the Trump election campaign colluded with Russia. How did he do that might you ask? In a Feb. 18 tweet, Trump essentially claimed that if the FBI was not spending so much time on the Russia probe they would have been able to prevent the shooting. In the tweet Trump states,
Very sad that the FBI missed all of the many signals sent out by the Florida school shooter. This is not acceptable. They are spending too much time trying to prove Russian collusion with the Trump campaign - there is no collusion. Get back to the basics and make us all proud!
And those that survived the shooting in Parkland, Florida destroyed Trump for this grossly insensitive tweet.
And others on Twitter seem to agree.
You wouldn't think that a sitting U.S. president (or anyone for that matter) would use something as tragic as the loss of 17 lives due to gun violence as a way to deflect from their own problems. But then again, I'm sadly not surprised by anything that Trump does these days. I'm especially never shocked by anything that Trump tweets — but his latest outburst is absolutely unacceptable.
In that tweet, Trump is alluding to the fact that the FBI had actually been tipped off about the alleged shooter, who remains under custody and has been charged with 17 counts of murder, and various disturbing social media posts that were raised as red flags. The bureau admittedly failed to follow up on the tip, and FBI Director Christopher Wray said in a statement on Feb. 16 that he would get to the bottom of how this could have happened. Wray stated,
We are still investigating the facts. I am committed to getting to the bottom of what happened in this particular matter, as well as reviewing our processes for responding to information that we receive from the public. It's up to all Americans to be vigilant, and when members of the public contact us with concerns, we must act properly and quickly.
So Trump did as Trump does and took advantage of this (for lack of a better word) slip up to attempt to discredit the ongoing investigation into possible collusion between his 2016 election campaign and Russia. Instead of discussing the problem of gun violence that this nation is struggling with or pushing for stronger gun control legislation, Trump decided to make this all about him. I am truly speechless.
Meanwhile, the students from Marjory Stoneman Douglas High School are so furious and heartbroken with what happened on their campus that many have vowed to not return to class until Congress takes action and passes gun legislation, according to The Hill. They have also organized a march on Washington D.C. that is set to take place on March 24 in an effort to demand that legislators finally deal with the issue of gun violence.
The actions of these students is the type of authoritative action that our president should be taking as well. But sadly, it looks like the president is more interested in distracting from the very serious accusations that his election team is facing. This is truly one of the most appalling things that Trump has done, and I am at a loss for words.