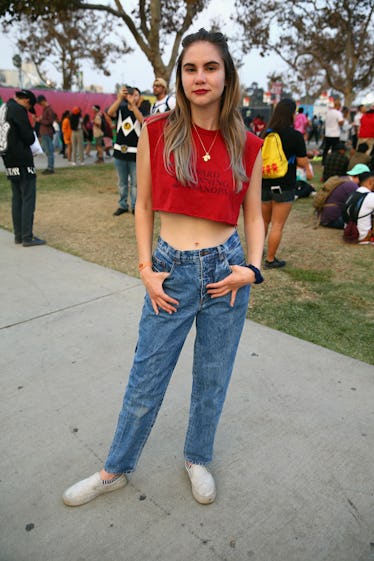 Pair These Cool Summer Tops With Jeans & You'll Be The Best-Dressed In The Room
Rich Fury/Getty Images Entertainment/Getty Images
It's already time to start thinking about your wardrobe for the hottest months of the year. Even though spring just arrived (savor it!), you'll want to get a head start on prepping your looks for the days when 85 degrees feels moderately temperate. I rounded up nine summer 2018 tops that will not only keep you as cool as possible, but will have you looking it, as well. The best part? They all pair incredibly with jeans or jean shorts and are enough of stand-out pieces that accessories will barely be needed. Because when the forecast predicts perspiration-inducing days for weeks on end, the last thing I want to be is bogged down by metal earrings or strung with bulky beads.
Whether you're into strapless tube tops or those with ruffled sleeves, vibrant prints or staple solids, there will be something on this list for you. And with everything coming in at under $50, no blouse, shirt, tee, what-have-you will break the bank. So invest in a few tops, try out a few seasonal denim trends, snag a new pair of statement sunnies or two (the only accessory I care about in the summer), and prepare to look chic AF — even when you're sweating bullets.
Cherry Baby
Hankerchief or top? Either way, it makes one badass statement. The sweet cherry motif balances out the edgy silhouette, and it would look amazing paired with red lips, gold hoops, and chunky black platform sandals.
Big In Japan
If you can't actually take a vacation this summer, why not wear your dream destination on your sleeve? This Kyoto shirt gives me major Gucci vibes, thanks to its embroidery and color scheme, but for a tiny fraction of the price. It'll look rad paired with any wash of denim.
Rainbow Brite
This bodysuit is the perfect answer to super hot days. Pair it with denim and some white sneaks for a laid-back Cali-girl vibe.
Spread The <3
I love the combination of dark blue and baby pink and this striped tee emblazoned with a bubblegum heart nails it. Tuck it into high-waisted shorts for a slightly '90s vibe and take it one step further with a pair of converse.
Get It Twisted
The combination of blue denim and cherry red is, in my opinion, unbeatable. This bright crop top features a cool twist detail and deep V neck line, rendering it the perfect going out shirt.
It Was All Yellow
This makes me think of retro beach towels and vintage Slim Aarons photos, both of which I love. It's got a decidedly vacation vibe to it and closes with a cool front tie. Pair it with dainty gold charm necklaces for an especially chilled look.
Coming Up Roses
The flower print on this top is everything. A combination of pink and red roses against a black background, it's got a cool, edgy rocker vibe to it. Its spaghetti straps tie at the shoulders and it's got a cool cropped silhouette. I'd pair it with a topknot and black pointed toe booties.
Gingham Girl
Much like floral, gingham is turning into a perennially cool print for warm weather. I love this top for its off-the-shoulder neckline, bohemian sleeves, cropped silhouette and barely-there halter tie.
Spotty Connection
This is a statement shirt! It's contrasting polka dot prints will certainly turn heads, not to mention its exaggerated ruffle deal and asymmetrical neckline. Throw this on with a pair of retro white cat eye sunglasses and feel the vintage vibes roll in.