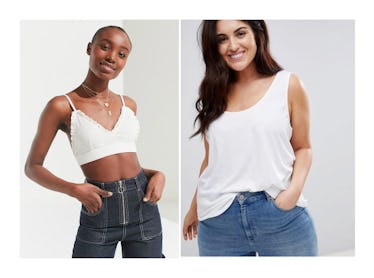 9 White Tank Tops To Throw On & Look Cute Without Any Real Effort
Urban Outfitters/ASOS
The start of a new season means the chance to try out new trends and evolve your style. In other words, a reason to go shopping. One of the biggest style trends for this year is something you may already be familiar with: Summer 2018 tank tops are the simple white tops you'll be wearing with everything. No joke.
Cropped, long, loose, fitted, you name it, there's a white tank top out there for pretty much everyone. Before now, you've probably worn a ratty old tank top to the gym, grocery shopping, or to sleep in. Today, however, is the day you'll see your go-to loungewear top in a new light.
If you're like me, you've got a stack of old white tank tops with pit stains, food spills, loose threads, and any other sort of damage you can think of. They're so comfortable that I can't bring myself to throw them away, but they're so unsightly that I can't bring myself to wear them outside in broad daylight. Alas, it may be time to part with the tanks of summers past. But don't worry, I've got loads of new top options with which to replace them. Check out the most stylish and affordable white tank top options that'll have you looking fly AF all summer long.
Old Navy First-Layer Fitted Rib-Knit Tank
Here it is, in all it's glory, the classic ribbed white tank top. This timeless style from Old Navy comes in a variety of sizing options including tall and petite, and a plus-size option ($12; Old Navy).
ASOS DESIGN Curve Ultimate Tank
Tops with wider straps like this mean you can still wear a comfortable, supportive bra and not even have to deal with trying to go strapless. Wear this style with jean shorts all summer long.
Boohoo Abigail Basic Ribbed Cami
Another classic option is a spaghetti strap tank. Free the nipple and go braless or use it as an opportunity to show off a cute new bralette! This style can be tucked into mini skirts or flowy shorts for a girly look.
Eloquii Thin Strap Cami
This style of tank goes with literally anything so think more about how to accessorize your outfit. A pair of statement earrings, perhaps?
Forever 21 Plus Size Ruffle-Trim Cropped Cami
If you want to add some personal touches to your tank, think small. It's all about the little details with this trend. Instead of bold graphics, opt for a minimalist ruffle like this tank. Wearing this top with baggy bottoms or an oversized bomber jacket will compliment the feminine ruffle.
A New Day Linen Tank
A breast pocket adds depth to an otherwise simple tank. Midi skirts are in so tuck this tank into your fave calf-hitting style and you're good to go.
Out From Under Rhea Ribbed Bralette Top
Why not take a crop top a step further and go full-on bra top? As Paris Hilton would say, that's hot. High-rise pants or skirts work well with one of these; you can bare your midriff but still keep everything balanced.
H&M V-Neck Camisole Top
Never worry again about straps being too long when you can tie them yourself. This top screams summer because you are definitely not allowed to put a jacket on top of those adorable bows.
Missguided White Acid Wash Square Neck Sleeveless Bodysuit
If you like to tuck in your tanks, here's an epic insider tip: wear what looks like a regular tank top but is actually a bodysuit. You'll never have to worry about it coming untucked, ever.
Lastly, just remember that Beyoncé wore a white tank top one time so you should be wearing one all of the time.