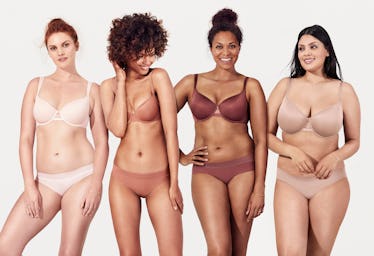 This Buzzy New Brand Offers More Bra Sizes Than Victoria's Secret & Calvin Klein Combined
Courtesy of ThirdLove
I feel like only 20 percent of my bras fit perfectly. The rest of them either make me spill over the top (giving me that quadruple-boob look) or they support me at the bottom but have a ton of extra space at the top. No matter what size you are, finding a bra that fits you just right can feel impossible. That's why ThirdLove's bra sizes extend from cups AA through H, and get this, they even offer half sizes like C and C 1/2. Praise!
I rarely go shopping for bras, mostly because I hate the entire experience. Every brand is on their own sizing chart, so I never know if I'm a B or a C — and get this, a recent fitting at Victoria's Secret revealed that I wear a size DD in their bras. I honestly don't know why I ever purchased half of the bras in my drawer. I have a handful (but really just one bra in particular) that fit just right, and I keep these on rotation with everything I wear. And I'm not alone either. 80 percent of women apparently wear the wrong size, which makes me feel better, but all I want is a drawer full of bras that actually fit me.
Thankfully, ThirdLove is making it their mission to help every woman find the perfect bra size. They just extended their range to include 24 new sizes, which makes for a total of 70 different bra sizes that range up to a 48 band. With their massive new size range, ThirdLove is now the most inclusive bra brand on the market. They even shared an infographic that shows the size offerings of popular bra brands in comparison to their 70. According to ThirdLove, Victoria's Secret only offers 36 sizes, Aerie offers 31, and Calvin Klein only offers 26 (less than half as ThirdLove).
In case you're thinking more isn't always better, get this: The bra brand doesn't just add longer straps or bigger cup sizes to make up new sizes. In a press release, Ra'el Cohen, ThirdLove's chief creative officer says, "we know you can't just take a 34B and scale it up to a 40G — that's a recipe for a bad fit. We've worked tirelessly to design bras that don't just scale up in size, but that have additional supportive elements that are nearly imperceptible to the naked eye." She adds, "we have added an additional layer of fabric and wider elastic hidden inside the top and bottom of the band. These elements are completely hidden so that our new bras are just as beautiful as every other bra we offer."
And ThirdLove doesn't plan to stop their either. Co-CEO and co-founder of ThirdLove, Heidi Zak says says, "Speaking to women who told me that our company didn't make a bra for them was painful to hear. Women were rightfully upset that we didn't carry their size. That's why we've invested substantial resources to expand our size offerings. ThirdLove's ethos is to have a bra for every woman, to help every woman feel confident every day of her life." She adds, "this is just the beginning; we'll be launching more sizes and styles in the future."
And to further drive home the message of inclusivity, ThirdLove is also offering a range of skin tones in their nude color selection, because there's nothing worse than having your "flesh-toned" bra color show through your white tee. Can't wait to get your hands on your perfect bra? Get in line, because the brand also noted that the wait list for the new sizes is 1.3 million strong. Check out ThirdLove's full collection of inclusive sizes here.