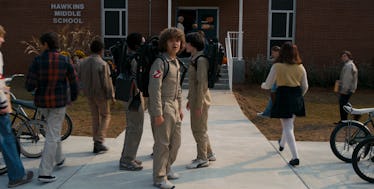 'Stranger Things' Won Big At The MTV Movie & TV Awards & Gave One Special Shout-Out
Netflix
There was a time not too long ago when MTV's secondary awards show of the year was known as the MTV Movie Awards. From 1992 until 2016, it stayed with this format, focusing on the big screen only. But last year, the push for the Awards show to be able to acknowledge prestige TV became too great, and now they honor both. This is the second year of TV acknowledgments, and it's two years in a row for the winner, as Stranger Things won Best Show at the 2018 MTV Movie and TV Awards.
One of the reasons for MTV's push to add television to their honoring circuit was the sheer amount of great TV which is also geared toward a teenage and young twenty-something audience. Even so, the 2017 nominees were a mix of shows including Atlanta, Game of Thrones, Insecure, and This Is Us, as well as the younger-skewing Pretty Little Liars and Stranger Things. The last of those took home the inaugural trophy, which was the obvious and correct choice out of the group.
This year was another line-up of great nominees. But it's not surprising Stranger Things won for a second time, cementing the show's status as the most popular show with the MTV crowd for two years running. What was surprising was the sweet and well-deserved shout-out to acting MVP Winona Ryder, who has been overlooked by the major awards shows so far this season.
As mentioned above, this year the nominees for Best Show were a little more in line with the types of shows MTV's audience would watch. Here's the full list:
13 Reasons Why (Netflix)
Game of Thrones (HBO)
grown-ish (Freeform)
Riverdale (The CW)
Stranger Things (Netflix)
So why did Stranger Things take home the win a second time? Let's break down the competition.
Game of Thrones gets nominated in the "Best Show" category held by every TV honoring event. It is practically a formality at this point. But the season up for the 2018 trophy aired nearly a year ago at this point, back in July and August. On top of that, it's been on the air practically forever, which works against it when compared to shiny and new shows. In the opposing corner is grown-ish, an extraordinarily popular show on Freeform, with the backing of black-ish over on ABC. Stars Chloe x Halle performed this evening as part of the musical acts. But where Game of Thrones is really too old to take home the win, grown-ish has the opposite problem of being too new.
Riverdale is a great newcomer that was really overlooked in 2017. Though it's still a heavily popular favorite, and it only arrived on Netflix recently, Season 2 hasn't been as strong as the first run of episodes last year, which was crisper and cleaner, as well as shorter. Speaking of Netflix, 13 Reasons Why is so popular, the streaming service barely waited two weeks before declaring Season 3 was a go. (The streaming service usually makes a show wait a full six weeks before announcing its renewal.) But it's also very controversial, and some of the reviews of this season were ghastly. It's the sort of thing people watch but won't cop to watching.
That left Stranger Things to take the win a second time. Their "Best Show" nomination was also buoyed by wins for Noah Schnapp for "Most Frightened" and Millie Bobby Brown for "Best Performance In A Show." (Brown sadly wasn't in attendance, but home in Atlanta due to a small injury.)
Will the show continue to dominate next season? Fans will find out when it returns with Season 3, currently slated for 2019.