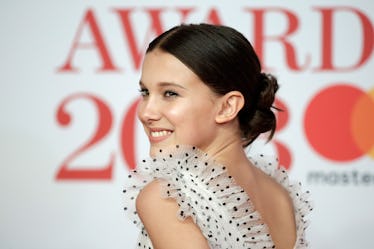 Millie Bobby Brown Isn't Going To MTV's Movie & TV Awards For A Painful Reason
John Phillips/Getty Images Entertainment/Getty Images
When your favorite Hawkins band of friends heads to the MTV Movie & TV Awards to scoop up a handful of honors for Stranger Things, one key member will be missing. Millie Bobby Brown, aka Eleven, confirmed that she'll be MIA at the annual award show, and she's got a pretty good excuse. While I'm sad that Millie Bobby Brown isn't attending MTV's Movie & TV Awards, the reason sounds painful AF, and I'm hoping she's on the mend soon.
In an Instagram video shared on Friday, June 16, the actress revealed that she's got doctor's orders to thank for missing Monday's awards party. Sporting a bright red t-shirt and some crutches, Brown addressed her followers, saying, "Hi guys. So another milestone in my life. I've never actually broken a bone except for now. I have split my kneecap." Ouch.
Panning down to her leg, which was encased in a black support cast, she continued, "From the doctor's orders, he told me to rest up. So I won't be attending the MTV Awards this weekend."
I'm sure Brown feels extra bummed out about missing this ceremony, as the popular Netflix series is in the running for seven categories and she was even nominated for Best Performance in a Show for her role as Eleven. Considering that in 2017 she won the award for the same category, it's totally possible that she could have clinched the honor two years in a row. On the other hand, red carpet attire and crutches don't exactly go together, and I can't imagine how painful it would be to navigate an event with a split kneecap.
While Brown is at home resting her injury, her cast mates will be holding down the fort at the awards show. According to her video, Gaten Matarazzo, Caleb McLaughlin, Finn Wolfhard, Sadie Sink, and Noah Schnapp will all be attending, so I'm sure there will be plenty of amazing Stranger Things photo-ops.
The 14-year-old continued, "I hope Gaten, Caleb, Finn, Sadie and Noah have the best time, and I love them so dearly, so I wish you guys the best and I'm sending my luck with you." Considering all of Eleven's psychic superpowers, I have a good feeling about their chances.
She signed off, "I'll be there in spirit. Love you guys so much and peace out."
It sounds like it's been a stressful couple of days for Brown. On June 14, the British actress quit Twitter after a few online trolls made her into a homophobic meme with the hashtag #TakeDownMillieBobbyBrown, according to People. She got rid of the app completely after a couple Twitter accounts started falsely attributing anti-gay quotes to her. While the publication notes that the meme was originally meant to be a joke, it's particularly disturbing because June is Pride Month and, Brown has previously spoken out about being an LGBT ally.
Per Vanity Fair, the star honored the Gay and Lesbian Alliance Against Defamation (GLAAD) Together movement last year at the MTV Movie and TV Awards with the signature blue ampersand pin, and I'm sure she would have had a similar gesture at this year's awards ceremonies if she hadn't gotten injured. While Brown has a second verified account, @MillieStopsHate, she hasn't posted since last December. Interestingly enough, this account is all about stopping bullying, which is so relevant in this case.
I'm sure Stranger Things fans will be wishing Brown a speedy recovery and hoping she makes her return to Twitter soon. The only thing Brown didn't mention in her video is how she got the injury in the first place. I've never heard of someone having a split kneecap, and it sounds pretty serious. Was she rehearsing cool Eleven stunts for the upcoming season of Stranger Things? Did she just trip over something at her apartment? I guess we'll never know.