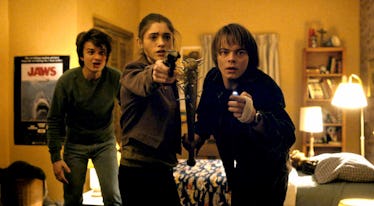 'Stranger Things' Season 3 Will Be "Darker & Unquestionably More Action-Packed" Than Ever
Netflix
The first teaser for Season 3 of Stranger Things makes everything in Hawkins look hunky-dory during the summer of 1985, but don't let that fool you — Stranger Things Season 3 will be darker and have more action than either of the two previous seasons, the show's producer Shawn Levy recently promised. So I guess fans should get ready to an intense, horrifying new season of the show when Stranger Things returns.
So far, all that we have seen of Stranger Things Season 3 is the teaser trailer that was released last month, which looked uncharacteristically quaint for Netflix's monster-filled drama series. The trailer took the form of an infomercial for Starcourt Mall, a new shopping that will have recently opened in Hawkins during the summer of 1985, when Season 3 will take place. The clip also revealed that Steve Harrington will be working in an ice cream shop within the mall, alongside a new character named Robin.
But although the Starcourt Mall teaser made Season 3 seem light and fun, producer Shawn Levy warned that the upcoming season goes dark... like, super dark. Levy told The Playlist that the Starcourt Mall trailer is indicative of some of the levity and fun at play in the beginning of Season 3, but fans should not be fooled into thinking that the new season won't bring the horror and action:
That would be part of the story, but not at all representative of the season. There's no question that, as you saw in that infomercial, Starcourt Mall is a part of Season 3. As is summertime. So Season 3 has a really healthy dose of poppy, bright levity and cultural fun. But I can only promise you that Season 3 eventually goes places that are darker, and unquestionably more action-packed, than we've ever gone before. It would be a mistake for anyone to think that Season 3 is the summer of fun and lightness because it's a whole lot more than that.
Shawn Levy's warning that Stranger Things Season 3 will be packed with darkness and action comes a week after Finn Wolfhard (who plays Mike Wheeler) teased that the new season will be set in a "summer of love" for the characters. So it sounds to me like we are going to get a few light, fun, and even romantic episodes at the beginning of Season 3, and then sh— is going to hit the fan like never before as the episodes progress.
The next question is what exactly Shawn Levy means when he says the new season will be darker and more action-packed than ever before. At the end of Season 2, Eleven managed to close the portal to the Upside Down, presumably stopping any other monsters from terrorizing Hawkins. But, the season ended on an ominous shot of the shadowy, tentacled Mind Flayer lording over a parallel-dimension version of Hawkins Middle School. So, will the Mind Flayer find another way to cross dimensions? I mean, all this darkness and action probably has to do with the Upside Down, right?
Stranger Things Season 3 will premiere on Netflix next summer.