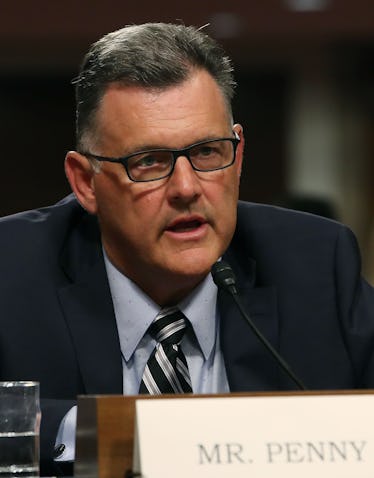 The Ex-President Of USA Gymnastics Has Been Arrested In Sexual Abuse Scandal
Mark Wilson/Getty Images News/Getty Images
The story of the sexual abuse of young gymnasts by former USA Gymnastic doctor Larry Nassar is one of the most upsetting stories in an already upsetting year. But it's not over. On Wednesday, Oct. 16, Steve Penny was arrested for allegedly tampering with evidence regarding Nassar's sexual abuse of young gymnasts. Penny's team denies the charges.
In September, Penny was indicted by a grand jury in Texas on one felony charge of tampering with evidence. However, on the night of Oct. 16, Penny was arrested in Tennessee for allegedly tampering with evidence relating to the case of former USA Gymnastics doctor Larry Nassar, who was convicted of abusing young female athletes over his two decade career. According to ABC News, Penny, who served as the president of USA Gymnastics, allegedly removed documents relating to Nassar's activities with USA Gymnastics from the organization's training facility Karolyi Ranch. Penny may face up to 10 years in prison if he is convicted. The warrant for Penny's arrest was issued in Texas, but Penny was reportedly arrested in Tennessee while on a family vacation.
In a statement to Elite Daily, Penny's lawyer Edith Matthai said that Penny had been unaware of the indictment against him and that the charges would have been "appropriately handled through counsel" rather than resulting in his arrest, had he known of them. She wrote,
Mr. Penny had no knowledge there had been an indictment in Texas. At all times his residence was known and his lawyers were available to authorities in Texas. No attempt was made to summon him directly or through his attorneys to come to Texas. ... Mr. Penny is confident that when all the facts are known it will be shown that he did nothing criminal.
Penny stepped down as USA Gymnastics president in March 2017 once the sexual assault allegations against Nassar surfaced. In June, Penny's deputy Rhonda Faehn testified to the Senate that she told Penny about the misconduct allegations, but had been told to be quiet by him each time.
On Oct. 17, USA Gymnastics shared a statement with Elite Daily about Penny's arrest and the charges. The statement said,
USA Gymnastics has learned of the charges filed against its former CEO Steve Penny, who resigned in March 2017. We support law enforcement's efforts and have fully cooperated with the investigations by the Texas Rangers, Congress and others, and will continue do so to help the survivors and our community heal from this tragedy.
The accusations against Nassar broke during the summer of 2016, when former gymnast Rachael Denhollander filed a criminal complaint against the doctor. After the allegations became public, many other gymnasts, including members of the medal-winning U.S Olympic team, came forward to say Nassar had abused them too, including Aly Raisman, McKayla Maroney, Gabby Douglas, Simone Biles, and others. Biles, who shared her story on Instagram, told the public that she felt "broken" for hiding her story, and repressed her feelings because of feelings of shame and guilt. She wrote,
For too long I've asked myself, 'Was I too naive? Was it my fault?' I now know the answer to those questions. No. No, it was not my fault. No, I will not and should not carry the guilt that belongs to Larry Nassar, USAG, and others.
In January, the women who accused Nassar of sexual assault shared their stories in court and eventually Nassar was sentenced to 40 to 175 years in prison after admitting to 10 separate sexual assault charges in the state of Michigan. Before that, Nassar received an additional sentence of 60 years in prison for three separate charges of child pornography possession.
This scandal will have a lasting impact on the future of USA Gymnastics, but as long as strong women continue to stand up and speak out for truth, there's always hope.