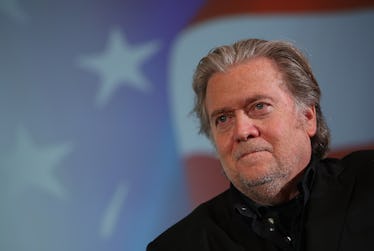 This Ex Trump Staffer Was Confronted In Public, But It Didn't Go Like You'd Expect
Sean Gallup/Getty Images News/Getty Images
Well, the past few weeks have certainly not been easy for Trump administration staffers. White House employees may expect to deal with backlash when it comes to political decisions, but now it looks like even those staffers who have already left the White House can't even enjoy a public outing without being confronted by angry citizens. On July 7, Steve Bannon was confronted in public, but this specific incident is quite unlike the others.
According to The Richmond Times-Dispatch, Steve Bannon was visiting Black Swan Books in Richmond, VA when he was confronted by a woman also in the bookstore. Nick Cooke, owner of Black Swan Books, told The Richmond Times that the woman called the former White House chief strategist a "piece of trash" while they both were in the bookstore.
But while other White House staffers have either left or been asked to leave public establishments, the incident with Bannon took a different turn. Instead of being asked to leave the bookstore, the establishment owner actually came to Bannon's defense, and asked the woman confronting him to leave the bookstore. In response to the witnessed confrontation, Cooke decided to call the police, which caused the woman to leave the bookstore immediately after he made the call.
"Steve Bannon was simply standing, looking at books, minding his own business. I asked her to leave, and she wouldn't. And I said, 'I'm going to call the police if you don't,' and I went to call the police and she left," Cooke told The Richmond Times. "And that's the end of the story."
According to Cooke, he believes bookstores should be a place where different opinions are "tolerated."
"We are a bookshop. Bookshops are all about ideas and tolerating different opinions and not about verbally assaulting somebody, which is what was happening," Cooke said.
The fact that the bookstore owner actually came to Bannon's defense and called the police on the woman confronting him is quite lucky for the controversial political figure. Bannon, even besides his tenure in the White house, is known for advocating a far right viewpoints, and molded the website Breitbart, where he was executive chairman, to be a "platform for the alt-right." Under his guidance, the website published "inflammatory" pieces about women, Muslims, and other groups, according to the Anti-Defamation League, and the anti-hate group the Southern Poverty Law Center said in 2016 that Bannon had a "long history of bigotry" and said that he had no business being in the White House. Bannon served as President Trump's chief strategist until August 2017.
Bannon's experience being publicly harassed is just one a handful of similar instances that White House staffers have faced recently. On June 22, White House Press Secretary Sarah Huckabee Sanders was asked to leave Red Hen restaurant in Virginia. As opposed to Bannon's experience, the establishment owner, Stephanie Wilkinson, had no interest in coming to the Trump staffer's defense, and in fact was the one who asked her to leave the restaurant. Wilkinson told The Washington Post on June 25 that her reason for asking Sanders to leave is because the press secretary works for a "inhumane and unethical" administration.
"I'm not a huge fan of confrontation," Wilkinson told The Post. "I have a business, and I want the business to thrive. This feels like the moment in our democracy when people have to make uncomfortable actions and decisions to uphold their morals."
In addition to Sanders' experience, Department of Homeland Security Secretary Kirstjen Nielsen and Trump senior adviser Stephen Miller, who actually is the brains behind the "zero tolerance" immigration plan which saw migrant children separated from their parents, were also publicly harassed while trying to eat out in public restaurants in June.
Cooke may not be a fan of this string of confrontation against Trump associates, but it doesn't seem that the American people are backing down anytime soon. These public confrontations are definitely increasing, and a huge reason might be thanks to a very influential figure. During a rally in Los Angeles, California on June 23, California Rep. Maxine Waters told her supports that she wants to see them keep speaking out against Trump officials in public.
She said,
If you see anybody from that Cabinet in a restaurant, in a department store, at a gasoline station, you get out and you create a crowd and you push back on them, and you tell them they're not welcome anymore, anywhere.
Although this comment may have received mixed opinions from the public, it definitely looks like people are taking Waters' call to heart. Trump officials may never be able to step outside their front door again, but the good news is that online shopping will always be around.