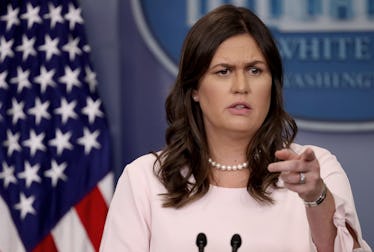 The Red Hen Owner Had A Compelling Reason For Kicking Sarah Sanders Out
Win McNamee/Getty Images News/Getty Images
It's becoming increasingly hard for members of the Trump administration to dine out after work. Kirstjen Nielsen, the secretary of Homeland Security, Stephen Miller, a senior adviser to the president, and Sarah Huckabee Sanders, the press secretary, are three officials who have had run-ins at local restaurants because of their place in the Trump administration. Now that Sanders and the president himself have tweeted about the latest episode, where Sanders was kicked out of a Red Hen in Virginia, people are debating whether restaurant owners have the right to remove people (they do). So why did Red Hen kick Sarah Huckabee Sanders out? The owner had a compelling reason that shows it's not simply about disagreeing with others' opinions.
In a deep dive on the restaurant kerfuffle, The Washington Post reported that Red Hen owner Stephanie Wilkinson was home on June 23 when she learned that Sanders was dining at her restaurant with seven others. She rushed to the restaurant to see if it was true — and it was. Wilkinson told The Post that she believed Sanders worked in service of an "inhumane and unethical" administration. According to Wilkinson, several of her employees are members of the LGBTQ community and didn't feel comfortable serving Sanders due to the administration's stance on things like the transgender military ban and policy of separating migrant children from their families. She asked her employees if they thought Sanders should be asked to leave, and they said yes, per The Post.
"I'm not a huge fan of confrontation," Wilkinson told The Post. "I have a business, and I want the business to thrive. This feels like the moment in our democracy when people have to make uncomfortable actions and decisions to uphold their morals."
It's a new kind of quandary — do you serve customers who are bolstering an oppressive government? Wilkinson said that it was important to her that Sanders was not refused on sight — that she had been seated and served initially. She also said it was important to her that Sanders was not a private citizen with whom she disagreed, and that she was a public official.
Both Sanders and President Donald Trump called out the restaurant by name, raising ethical questions by doing so from official government accounts.
"Last night I was told by the owner of Red Hen in Lexington, VA to leave because I work for @POTUS and I politely left," Sanders tweeted. "Her actions say far more about her than about me. I always do my best to treat people, including those I disagree with, respectfully and will continue to do so." The president said the restaurant was "filthy" and "badly needs a paint job," his tweets apparently coinciding with discussion on Fox & Friends early on Monday morning, June 25.
The mounting backlash against administration officials appears to be what is seen as an escalation of heavily criticized practices under the Trump administration. President Trump's "zero tolerance" immigration policy that saw around 2,000 migrant children torn away from their families at the border and sent away to stay in centers, has been panned widely as inhumane. While the president has since backtracked by signing an executive order halting the inhumane procedures, his language was pretty vague, and the administration has admitted that there is no current plan to reunite the displaced kids with their families. Sanders' status as a public defender of the policy hasn't helped matters.
Because the Red Hen restaurants have been so publicly maligned in all of this, people on Twitter began circulating a plan to help.
In an effort to combat poor Yelp reviews being piled onto the business — which was named in both Sanders' and Trumps' tweets — people began announcing ways to pledge money to support the restaurant by purchasing gift cards online.
"Who follows me in DC and would go to Red Hen if I got em a gift certificate for dinner there?" Screenwriter Brian Koppelman tweeted on Friday, June 23. "First three to say yes and send me their email addresses get dinner on me."
Others joined in too, seemingly recognizing that these tweets from White House officials could potentially tank revenue at the restaurant, which is perfectly within its right to refuse service. Obviously, everyone is tense right now because of the botched handling of the border crisis by the Trump administration — as well as the harsh circumstances being heaped onto migrants under the guise of protecting Americans. But it shows no small amount of courage for a restaurant to stick its neck out in all of this. Wilkinson even told The Post that she'd do it again if she could. What a woman.