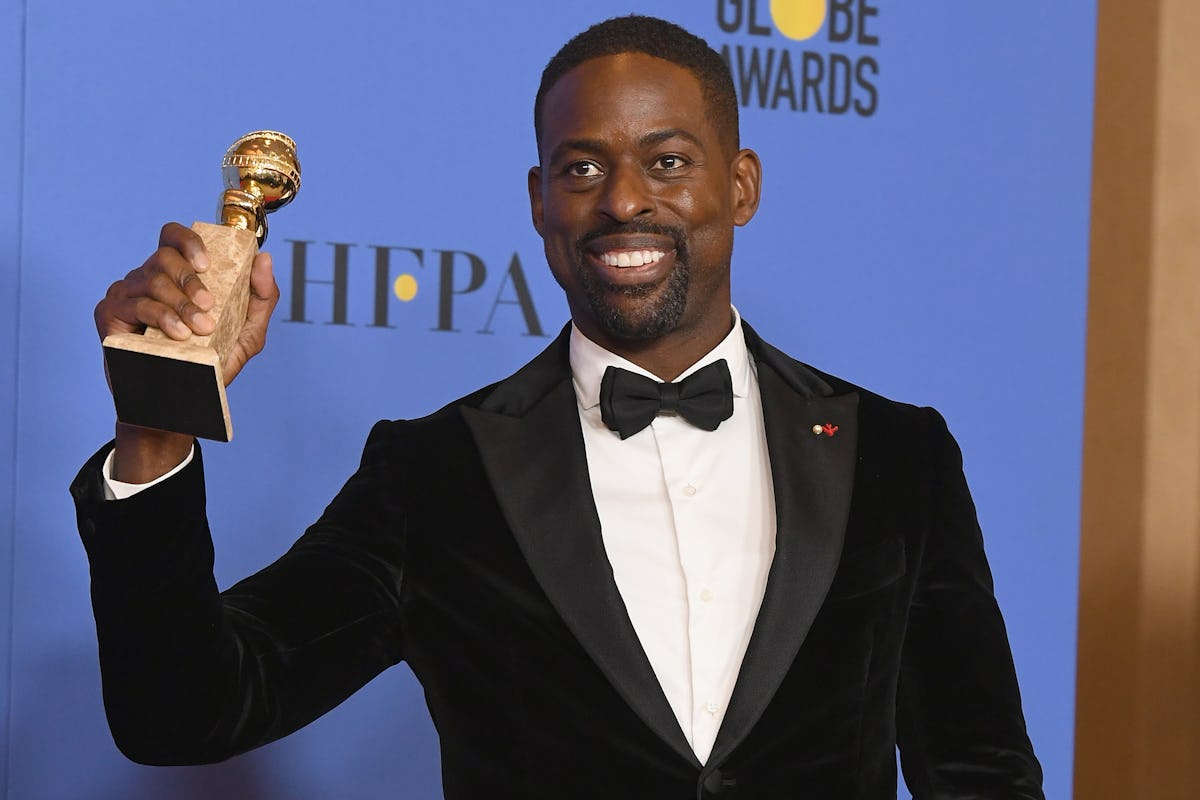 Sterling K. Brown Just Made History At The Golden Globes
Kevin Winter/Getty Images Entertainment/Getty Images
Sterling K. Brown winning a Golden Globe for Best Performance by an Actor in a Television Series — Drama is great for This Is Us fans, but it actually means so much more. Brown's win helped him make history as the first African American man to win in this coveted Golden Globe category. Sterling K. Brown's Golden Globes win has an impact far greater than a trophy, and his speech was nothing less than spectacular.
That's right, in the 75 years that the Golden Globes has been awarding films and television shows in Hollywood, Sterling K. Brown is the first African American male to win in this category. Pretty unbelievable and long overdue, right? Brown used this opportunity to shed some light on what his career as a minority has been like. He explained his appreciation towards the creator of This Is Us, Dan Fogleman, who wrote the role of Randall Pearson specifically for a person of color. Brown said,
Throughout the majority of my career, i've benefited from colorblind casting which means, you know what, let's throw a brother in this role, right? Really cool. Dan Fogleman, you wrote a role for a black man. Like that could only be played by a black man. And so what I appreciate so much about this thing is that I've been seen for who i am and being appreciated for who I am. And it makes it that much more difficult to dismiss me or dismiss anybody who looks like me. So, thank you, Dan.
Even more groundbreaking, after taking home Outstanding Lead Actor in a Drama Series at the Emmys in September, it was revealed that Brown was the first African American man to win that specific award in 19 years, according to Splinter News.
Brown's career is clearly unstoppable. His category at the Golden Globes was especially competitive this year. He went up against veteran shows like Ray Donovan and rave-worthy newcomers like The Good Doctor. However, Brown's talent stood out this year, and he took home the W.
The other men in his category were:
Jason Bateman (Ozark)
Sterling K. Brown (This Is Us)
Freddie Highmore (The Good Doctor)
Bob Odenkirk (Better Call Saul)
Liev Shreiber (Ray Donovan)
Brown is actually just as passionate about his role on This Is Us as the fans are. After a particularly emotional episode in May, Brown released a heartfelt video to fans. He said in the video,
To see the way you're all responding and feeling. You know, it's not my goal to bring you to tears, that happens to be a byproduct of what we do. Tears do happen to come. I want you to feel. I want you to feel connected and recognize that we're all in this together. That no man or woman is an island onto themselves. If you have family that you haven't talked to in a while or friends that you feel you have gotten out of touch with, then call them up. Let them know how much you love them and how much you care because tomorrow is not promised.
If Brown's Golden Globes win has done anything, it's making me miss This Is Us SO BAD. It doesn't make it any easier that the show left me totally bewildered after Kevin (aka Justin Hartley) was arrested for a DUI. THEN THEY UP AND DECIDED TO TAKE A BREAK FOR THE HOLIDAYS, WHAT THE HECK? Deep breaths, Sterling K. Brown, Chrissy Metz, Mandy Moore, Justin Hartley, and the whole cast of This Is Us returns Tuesday, Jan. 9 on NBC. Honestly, can't wait.
Check out the entire Gen Why series and other videos on Facebook and the Bustle app across Apple TV, Roku, and Amazon Fire TV.