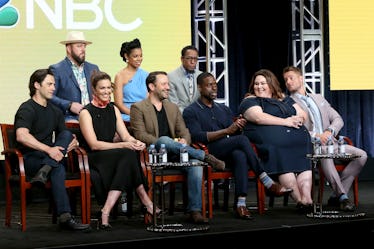 'This Is Us' Had A Huge Night At The Golden Globes & Everyone's Crying
Frederick M. Brown/Getty Images Entertainment/Getty Images
Entertainment fanatics, rejoice. Award show season is upon us and everything kicked off with the Golden Globes. The award show on Jan. 7 highlighted some amazing movies, shows, and miniseries. However, one show definitely sparkled during the Globes and on our television screens at home. This Is Us was nominated in three categories, which is a huge honor, and has also been one of the most talked about shows. How many Golden Globes did This Is Us win? The show took home one of their three nominations. Sterling K. Brown was awarded Best Performance by an Actor in a Television Series — Drama.
The show itself was up for Best Television Series, Drama which turned out to be an extremely competitive category this year. The nominees were:
The Crown
Game of Thrones
The Handmaid's Tale
Stranger Things
This Is Us
The award went to The Handmaid's Tale.
Other nominations also included Chrissy Metz for Best Supporting Actress in a Series, Limited Series, or Motion Picture Made For Television for her role as Kate and Sterling K. Brown for Best Performance by an Actor in a Television Series — Drama.
Chrissy Metz had the tough task of going up against a few of the ladies from Big Little Lies — this year's award show sweeper. The nominees included:
Laura Dern (Big Little Lies)
Ann Dowd (The Handmaid's Tale)
Chrissy Metz (This Is Us)
Michelle Pfeiffer (Wizard of Lies)
Shailene Woodley (Big Little Lies)
Laura Dern took home the win for Best Supporting Actress for her role in Big Little Lies. As for Sterling K. Brown, after taking home an Emmy in September for Outstanding Lead Actor In A Drama Series for his portrayal of Randall Pearson, I'm sure he was feeling very confident about his odds of taking home a Golden Globe — which he successfully did.
The other men in his category were:
Jason Bateman (Ozark)
Sterling K. Brown (This Is Us)
Freddie Highmore (The Good Doctor)
Bob Odenkirk (Better Call Saul)
Liev Shreiber (Ray Donovan)
According to NBC, This Is Us returns on Jan. 9. For those of you left bewildered, a little lost, and slightly heartbroken after Season 1 — don't worry, it was all deliberate and you will get answers... eventually. The creator of the show Dan Fogelman gave Entertainment Weekly a little insight. He said,
There's no fake-outs here. And there's no fake-outs in last season. Kate said she feels responsible for her father's death. That's a big thing that people have latched onto. We've not done anything by accident.
As far as what happened with Jack, Fogelman assures that some interesting things will be revealed. He continued,
Jack didn't die peacefully in his bed at 90 years old. Something happened to this man and this family that broke them for a little while... In order to fully understand that year of their life, you don't just do it one episode. You have to understand where they're all at at time period, what had happened in the marriage, what was happening with those kids, what was happening with those kids vis a vis their father, before they lost him, that frames these 37-year-old people we're seeing. Once we've done that, then we'll see everything we need to know about Jack.
Deep breaths, people, this was all part of the plan, according to Fogelman.
We had a plan from day 1. I delivered the script for the pilot, and I also had a pitch for the next four seasons of the show. It wasn't like I went through every episode, but I said, 'Here's how Jack dies. Here's how we're going to reveal how Jack dies. Here's when we're going to reveal it.' And this was all very much part of the plan.
I'm glad he knows what he's doing, but that doesn't make the wait any easier. The momentum of This Is Us looks like it's just getting started. Award show winners or not, fans sure can't get enough.
Check out the entire Gen Why series and other videos on Facebook and the Bustle app across Apple TV, Roku, and Amazon Fire TV.