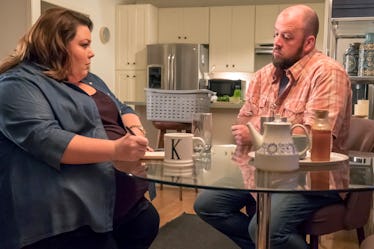 Chrissy Metz's Reaction To Kate's Heartbreaking 'This Is Us' Moment Is Bittersweet
Ron Batzdorff/NBC
Another week, another heartbreaking episode of This Is Us to contend with. By the way, major spoilers ahead if you haven't watched the most recent episode, "Number One." If you're a fan of the NBC drama you already know that grief comes with the territory. And while this week's installment of what we've now dubbed as This Is Us In a Sea of Our Own Salty Tears focused on Kevin's hardships, the last few moments revealed some sad news regarding Kate and Toby's pregnancy. And Chrissy Metz's reaction to Kate's miscarriage explains one of the reasons the writers chose to go in that "devastating" direction.
Last night we got a serious glimpse into the ups and downs of Kevin "Number 1" Pearson as he fell deeper into the grips of addiction. Following a disastrous visit back home to be honored at his old high school which resulted in him stealing a prescription page from a surgeon he had a one night stand with, he found himself back at Randall's house, hopefully to get some real help. But the moment quickly shifted to his beloved sister. Randall tells Kevin that Kate lost her baby. It was an unexpected turn that had fans absolutely wrecked, wondering how the writers could ever do something to Kate, Toby, and them that could hurt so much. Chrissy Metz's Twitter response was a bittersweet explanation:
This Is Us is all about keeping things authentic, mirroring real situations, and not always taking the picture perfect happy ending route. Life is messy and difficult and sad, and the writers strive to reflect that in a way that represents a myriad of experiences, especially ones that don't get enough attention. Creator Dan Fogelman also chimed in to clarify why Kate's pregnancy arc was necessary for the show.
Next week's episode revolves around Kate Pearson, so why did the show decide to drop this piece of somber information following Kevin's story? Kevin and Kate have been pretty much inseparable their whole lives — they're intrinsically linked forever — so it seems only natural to see how her emotionally transformative event might affect him, even while he's going through his own issues. Writer KJ Steinberg elaborated on the decision to set up Kate's episode through Kevin's. And, guys, the writers had the fans in mind. They're just trying to take make it easier on YOU. She said,
In the next episode we're gonna rewind and it's gonna be the same day in the life, but a completely different life-changing dramatic experience. We did think long and hard about this as an act of mercy, because we love Kate so much, it's almost giving people a week for people to prepare to let that set in. To let people brace themselves a little bit for the journey of next week, which we thought was something that was important to do. It was deliberate.
Next week's "Number Two" already looks like a tearjerker, but we respect the writers for not taking the easy, fairytale path when it comes to Kate and Toby's journey to parenthood. If there's any fictional couple who can weather a storm together, we imagine they're the ones.
Justin Hartley teased the upcoming episode in a conversation with EW, revealing,
It is another story that's told about a very beloved character, Kate Pearson, and it's performed epically by her. And it is deep and it's another story about something that a lot of people deal with. These are people who everyone can relate to, and they go, "Holy sh*t, if that's not me, I know someone exactly like that." We're talking about things that people don't talk about, and it's so cool.
We'll be watching, tissues at the ready.