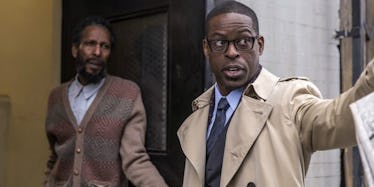 This 40-Year-Old 'This Is Us' Star Posted A Hot Shirtless Selfie And Fans Lost It
NBC
Awooooooooooooga!!! Sterling K. Brown, everybody!
"This Is Us" has the distinction of being both a tear-jerking family show about the modern struggles of everyday life and a one-stop shop for all the eye candy you could possibly eat without dying of eye diabetes -- aka: Deyeabetes. Thank you, good night.
If you don't watch the show, that's fine. Just know you're missing one super hot/super complicated family.
Whooooooooa, mama.
Sterling K. Brown, who plays Randall Pearson on the show, recently posted a shirtless selfie to his Instagram that could potentially melt your phone.
Have mercy...
WHAT IS THAT?!?!?!?!?!??!
He captioned the post,
So, I've been working on @the_predator_movie with the wonderful @_trevante_ , & try as I might to believe otherwise...that brother reminds me everyday that I'm 40 years old! Even still...thanks for the inspiration young man. It is greatly appreciated!
The 40-year-old Emmy winner is currently buffing up for a role in "The Predator," a remake of Arnold Schwarzenegger's 1987 classic set to drop in February of 2018.
It co-stars Trevante Rhodes from "Moonlight," aka the guy Brown mentioned in his caption.
FYI, this is what Trevante Rhodes looks like.
The comments section of Brown's picture sums up our feelings perfectly:
When it comes to "This Is Us," though, Brown is clearly as much of a sap as the rest of us are.
He recently recorded a video for fans of the show, and it's absolutely heartbreaking.
During the clip, an emotional Brown told his fans,
To see the way you're all responding and feeling. You know, it's not my goal to bring you to tears, that happens to be a byproduct of what we do. Tears do happen to come. I want you to feel. I want you to feel connected and recognize that we're all in this together. That no man or woman is an island onto themselves. If you have family that you haven't talked to in a while or friends that you feel you have gotten out of touch with, then call them up. Let them know how much you love them and how much you care because tomorrow is not promised.
Great video, Sterling. Next time you cry, though, could you maybe do it shirtless?
Citations: This Is Us' Randall Is Ripped & Fans Can't Deal (Refinery 29)