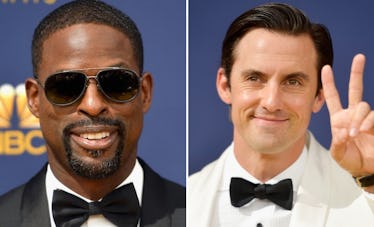 Sterling K. Brown Just Debunked A Major 'This Is Us' Theory On The Emmy Awards Red Carpet
Matt Winkelmeyer/Getty Images
All eyes were on the This Is Us cast during the 70th Annual Emmy Awards on Monday night, and not just because the show and its cast were up for a handful of the ceremony's biggest awards. The NBC family drama is returning for its third season in just about a week, and fans are trying to get every detail about the mysterious new season. Luckily, Sterling K. Brown and Milo Ventimiglia were on hand to tease out some new info about the upcoming season. Like, will Randall and Beth break up on This Is Us? Let's go over all the new details that the cast spilled at the Emmys.
Before the big show, Sterling K. Brown and Milo Ventimiglia teased what fans will see from their characters, Randall Pearson and Jack Pearson, in the third season of This Is Us. First up, Milo Ventimiglia shared that the bulk of the new season will flash back to Jack earlier than we have ever seen him before. Ventimiglia confirmed that most of Jack's scenes in Season 3 will center on Jack's time in the army during the Vietnam War. Of course, most fans already assumed that Jack's Vietnam background would be a central part of the new season after the show announced it was going to bring in Jack's younger brother Nicky, who presumably died while serving in Vietnam with Jack.
Milo Ventimiglia also shared that the new season will see Jack and his future wife, Rebecca, first meeting and falling in love with one another, so at least all of the Jack flashbacks won't be about war.
But the real news about the third season of This Is Us came from Sterling K. Brown. On the Emmys red carpet, Brown dropped a whole bunch of new information about what is going on with his character of Randall Pearson in the upcoming season. First, he revealed that Randall will be presented with a new career opportunity in the new season, and of course, we will also see a continued struggle with Randall and Beth's family to make their foster child, Deja, fell like she belongs.
The most shocking details that Sterling K. Brown revealed, though, is that we will be seeing a massive blowup between Randall and Beth on this season of This Is Us. Brown said this fight between the couple will be pretty major, "more so than we're accustomed to seeing," as Brown put it. Ummm, I'm getting scared! But while this does sound like it is going to be a really bad blowup, Sterling K. Brown ended his Season 3 info dump on a reassuring note, confirming that we will not be seeing Randall and Beth break up or go through a divorce. Phew!
Beth has been the character most This Is Us fans are really nervous about ever since the shocking Season 2 finale, which flashed forward to show an older Randall and Tess talking about a mysterious "her" that they had not spoken to in a long time. It immediately sparked theories that Beth had died, but thankfully, we got confirmation that Beth will not die.
This Is Us Season 3 will premiere on Tuesday, Sept. 25 on NBC.