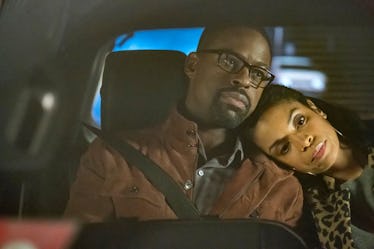 The 'This Is Us' Showrunner Weighed In On That Heartbreaking Beth Theory
That This Is Us flash forward showing old Randall was a heartwarming lift from the emotional trauma of Jack's death, but the moment accidentally inspired a huge fan theory about Beth's fate. An elderly Randall meeting a grown Tess got viewers wondering where old Beth was and, assuming the worst, they threaded together a storyline in which Beth pulls a Jack and dies way before her time. Rest assured, this isn't the case; one of the co-showrunners just confirmed that Beth won't die on This Is Us. Whew!
The flash forward in the episode "Super Bowl Sunday" shocked everyone by revealing that the social worker we assumed would work with Beth, Randall, and a foster boy was actually an adult Tess. It wasn't until the physical details of Old Man Randall sunk in that people began questioning why Beth wasn't present in the future timeline. Randall kept his hands out of frame, convincing fans that he wasn't wearing his wedding ring, and after TVLine hinted at a popular broadcast drama soon giving a character a terminal cancer diagnosis, a theory suggesting that Beth would die from the same cancer that killed her father solidified.
Just as I was ready to write letters complaining about the show's new overly sadistic nature, This Is Us co-showrunner and executive producer Isaac Aptaker has stepped in to clear things up. Speaking to Glamour, he insisted that fans don't have to worry about Beth's health for now:
I don't know where that came from. It's nothing we've talked about in our writers room, so unless there's some fan fiction making its way to set and getting filmed, I don't think that's in the works for Beth! You can tell your readers that Beth's OK... People are fantastic. I love the internet! But no, there's no conspiracy. We should do one episode though where we let the internet write the show where Beth dies of something crazy, and Randall's lost his hand!
For now, we can definitely take a breath and tell ourselves that Randall and Tess have just set this time aside as special father-daughter bonding. Upon its return this week, the show is also planning to introduce a lighter tone as the season approaches Kate and Toby's wedding and its finale episode in March. The Feb. 27 episode "Vegas, Baby" will probably focus on frivolous debauchery as the happy couple throw their bachelor and bachelorette parties. Aptaker also addressed the importance of returning from the show's Olympic break with a happier storyline than what the main plot was before the Winter Games.
It was important for us to come back with something a bit lighter to show that we also love showing our group of characters really enjoying each other and celebrating this really exciting thing coming up which is Kate and Toby's wedding.
While any wedding episode is bound to include plenty of bittersweet tears thanks to the absence of Jack, it looks like the rest of Season 2 will stay emotionally tame. When Season 3 begins in September, however, anything could be coming our way. Aptaker hinted that the production team knows all of the characters' timelines in both the past and present, which could introduce completely unforeseen stories next season.
Yes, I do know [the fates of all the characters], but I can't tell you yet. We are going to start dabbling in the future through going forward. It's so much fun getting to imagine what these characters are like 10 to 15 years from now.
While any rumors of Beth's death may now fade after this clarification, a summer without new episodes is always long and creatively stimulating for fans. Who's to say that those theorists won't find new evidence for their beliefs then?
This Is Us returns on Tuesday, Feb. 27 at 9 p.m. ET on NBC.