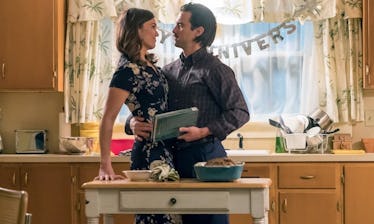 'This Is Us' Season 3 Has A Premiere Date & I've Never Been So Ready For The Fall
NBC
It's feels like a long spring and summer without the Pearsons. Season 2 of This Is Us concluded back in March, leaving audiences wondering when their questions about one of America's fave TV families would begin to get answered. Thankfully, NBC just released their fall slate and This Is Us' Season 3 premiere date isn't too far off. The drama will return Tuesday, September 25 at 9 p.m. ET.
When viewers last saw the Big Three and company, Kate and Toby had just tied the knot, but a flash forward to a year later showed him struggling with a deep depression. Kevin had hit it off with Beth's cousin Zoe at the wedding and a glimpse into his future revealed he was headed on a plane to Vietnam to presumably learn more about his late dad's past. Randall and Beth were dealing with increasing drama surrounding Deja, who broke Randall's windshield with a baseball bat (Jack's old baseball bat, to be exact) in a fit of anger. Of course, the most talked-about mystery coming out of the finale was the "It's time to go see her" flash forward moment, when a somber old Randall and older Tess weren't "ready" to go visit someone. Who is that someone?!
Mandy Moore and some of the cast took to social media to unveil This Is Us' anticipated Season 3 debut with a cute (and informative!) post. The actress also known as Rebecca Pearson literally marked her calendar, not without reminding followers of two other important milestones leading up to the premiere — Jack's and The Big Three's birthdays. Noted.
This Is Us will air before Ryan Eggold's new medical drama, New Amsterdam, which got the 10 p.m. Tuesday slot.
Morsels of intel about what to expect from Season 3 have been making the rounds for the last few months. One thing is for certain — Jack isn't going anywhere. Just because viewers know how he died does not mean there won't be further exploration of his life. Milo Ventimiglia divulged to People:
We're definitely going to see Jack in the Vietnam era. At the end of the Super Bowl episode when people were ultimately confronted with how he passed away, there was a trailer to show Jack in a helicopter over Vietnam in uniform. We're going to explore that side of Jack's 20s and what brought him into the man that we all knew.
Chrissy Metz touched on how KaToby's relationship will have somewhat of a shift in their dynamic as Toby deals with his mental health.
"He's helped Kate get through so much of her stuff that she's really ready to show up for him, and while it might be difficult, it's going to be necessary because they're going to contend with some hardships. Yet again. Life on life's terms," she told EW.
The series will also continue to go deeper with the Kevin and Zoe relationship, as well as put a spotlight on Miguel and Rebecca.
This Is Us might only be entering its third season, but the producers and writers already have their end game in mind. In fact, Dan Fogelman admitted he's "actually already shot pieces of the final scene of the series." The showrunner disclosed last month,
We know where it ends, and we have the path for each season of the show. We didn't want to get stuck. We have the kids and the timelines. I don't think this show — despite any success it may or may not have — will overstay its welcome.
OK, I'm not ready to think about This Is Us ending for good. I just want to know who "her" is and find out if Toby expands his fun hat collection.
This Is Us returns to NBC Tuesday, September 25.