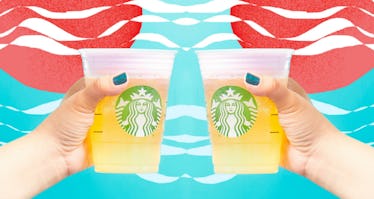 Starbucks' New Summer Sunrise Drink Is Perfect For Early Mornings At The Beach
Starbucks
Rise and shine, because Starbucks is here to perk you up with a brand new brew in the morning that you will actually want to get out of bed for. The coffee chain is launching two new Cold Foam Tea Lemonade drinks, one of which is the Summer Sunrise. Hence the name, this iced tea-based beverage is a refreshing mix of tropical flavors to awaken your tastebuds during those first few hours of daylight. That's why Starbucks' Summer Sunrise Cold Foam Tea Lemonade is perfect for early mornings.
Set your alarm clocks now, because the Summer Sunrise Cold Foam Tea Lemonade will be available at Starbucks stores throughout the United States and Canada starting first thing on the morning of Friday, June 22. Many Starbucks locations open their doors at 5 a.m. (you know, before the actual sun starts to appear on the horizon), so you can enjoy this tropical treat as soon as your eyes open.
The Summer Sunrise is a bright mixture of tart and tangy lemonade and tropical pineapple zest. With flavors that bold, there is no way you will still be sleepy after a sipping on Starbucks' Summer Sunrise Cold Foam Tea Lemonade. Oh, and I don't want to forget to mention the cold foam aspect of this drink. Your lips will be greeted by a sweet and frothy cold foam that has been infused with Teavana Passion Tango herbal tea, according to Starbucks. You are probably familiar with Starbucks' Cold Foam, so the addition of the tropical tea really breathes a bit of life (and sunshine) into the fluffy and aerated topping.
I will be the first to admit that I hit snooze on my phone's alarm clock at least three times before I crawl out from beneath the sheets. Even the big, bold smell of my automatic coffee maker percolating isn't always enough to rouse me from the bed. That's why the Starbucks' Summer Sunrise is such an ideal drink to start my day with. The chipper yellow color of the drink resembles the warm summer sun, and that alone may just be enough to wake me up. Let's talk about that flavor, though. I'm a regular black coffee drinker (not even a splash of milk, most of the time), but I am intrigued by the exotic pineapple and refreshing lemonade that makes up the Summer Sunrise. My palate is at attention.
Suffice to say, you should be able to find me at Starbucks on the morning of Friday, June 22 with a delightful Summer Sunrise Cold Foam Tea Lemonade in my hand. Going forward, though, I may just opt to place a mobile order for pick up, because Starbucks can be a madhouse in the mornings (understandably so). If you've ever stopped by the coffee chain around 8 a.m., then you know they get a serious rush of people on the way to work. I know I need my Starbucks as much as the next person, so to save a little time, I'm going to plan on ordering ahead.
For the time being, I am going to suggested that you make Starbucks' Summer Sunrise your daily wake-up drink. The bright and bubbly brew is the perfect morning beverage, especially for all of you non-coffee drinkers. You can add this brew to your summer bucket list, because what could be better than drinking a Summer Sunrise while watching the actual sunrise at the beach? Not much.
Alas, Starbucks won't be keeping this one around forever. The Summer Sunrise Cold Foam Tea Lemonade is only available for a limited time. While I'll encourage your daily habit of downing these delicious drinks (and my own), consider this your warning to order this cheery beverage while you still can.