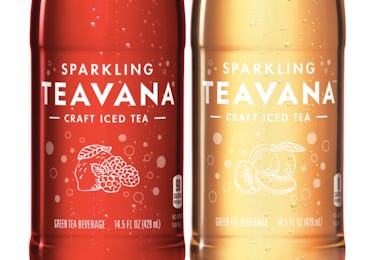 Starbucks Released Sparkling Craft Iced Tea & The Flavors Sound So Refreshing
With patio season in full swing, I've started switching out my go-to brews for more refreshing caffeinated sips. So far, Starbucks has seriously delivered with a slew of tantalizing options that are basically dessert in a cup (like, how good is their new Serious Strawberry Frappuccino?). Their latest warm-weather offerings might be my favorite, though, because Starbucks' Sparkling Craft Iced Tea flavors sound so refreshing, and they've got the bubbly texture you're always craving. Plus, let's be real, is there anything more synonymous with summer than iced tea?
As of Tuesday, June 12, Starbucks devotees can get that extra burst of energy by sampling a Teavana Sparkling Craft Iced Tea from their local grocery store. According to a press release, the bubbly iced teas are only available at a handful of Northeast and Midwest retailers at the moment, but they will expand to other parts of the country in 2019. Currently, there are two flavors to choose from, and they both sound like they'll be my new favorite summer refreshments.
Blackberry Lime Green Tea and Unsweetened Peach Nectarine Green Tea both come in a clear glass bottle and promise plenty of fizz, which is a first from Teavana's craft tea collection. The company says it decided to give its Teavana teas a bubbly twist for the first time due to the rise in popularity of sparkling beverages. In addition to plenty of refreshing flavor, these green tea-based sips also boast quality botanical ingredients, cane sugar, and zero artificial flavors, according to the release. With these sparkling teas available at only $2.39 per 14.5-ounce bottle (or just under the size of a Starbucks Grande beverage), I'm all for satisfying my mid-afternoon caffeine cravings while feeling good all around about my purchase.
If you're deciding what flavor is the right option for you, Starbucks describes the Blackberry Lime Green Tea flavor as an "exuberant blend of green tea, lime peel, and berry flavor" with plenty of bubbles, of course. While I don't have anything to compare this drink to in Starbucks' current drink arsenal, it does sound so delicious. Luckily, Starbucks was a little more descriptive for the Unsweetened Peach Nectarine Green Tea, which they say has "Tantalizing notes of white peach and nectarine plus hints of lemongrass and hibiscus crackle with a bubbly kick of live-out-loud goodness – all without any added sugar." So much yum.
While the new Teavana Sparkling Craft Iced Tea is only available at select stores in New York, New Hampshire, Vermont, Maine, Missouri, North Dakota, South Dakota, Nebraska, Kansas, Iowa, and Minnesota at the moment, I can definitely see these refreshing flavors becoming some of Starbucks' most popular summertime iced drink options. Not only do they sound like one of the healthier options for satisfying my sweet cravings, but the warm weather blends also sound like flavors that I could drink every day.
Don't get me wrong, Starbucks' new Frappuccino offerings might take your Instagram feed and taste buds to the next level, but they're not something that I could consume everyday. For example, take the coffee giant's latest (very) pink addition to its drinks menu. The Serious Strawberry Frappuccino was launched on June 5 and offers layers of strawberry and crème puree topped with a dollop of vanilla whipped cream. It's totally addicting and basically a strawberry lover's dream in a cup.
If you live in one of the participating states and are looking to treat yourself with a refreshing pick-me-up that'll fulfill all of your bubbly beverage cravings, I'd totally suggest trying out one of Starbucks' Teavana Sparkling Craft Iced Teas and reporting back to the rest of us. You know, in the name of research. Is it tea o'clock yet?