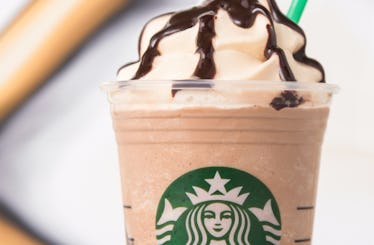 Starbucks' New Triple Mocha Frappuccino Is Here & It's Basically Dessert In A Cup
Starbucks
Don't get me wrong: I consider myself to be an adventurous person, and I'm all about trying Starbucks' seasonal frappuccinos. But at this stage in the game, I'm really looking for more of a "longterm thing," if you catch my drift. The Unicorn Frappuccino, for example, came as quickly as it went, and our time with the Zombie Frappuccino died as soon as Halloweekend ended. But finally, after years of looking for the Ross to my Rachel, the coffee giant released a frozen drink that's here to stay — and it's totally "my type." Starbucks' new Triple Mocha Frappuccino is here, and it might actually last until the end of time.
I'm really just seeking out a frozen drink that won't leave me in a day, a week, a month, or even a year — and it looks like Starbucks' new Triple Mocha Frappuccino will be there for me, even when the rain starts to pour (I'm all about these Friends puns today). If you think this might be the drink of your dreams, rest assured that it'll be officially available on Tuesday, May 1 at all Starbucks locations throughout the United States and Canada. The Triple Mocha could seriously be "my lobster."
Since I absolutely had to try the Triple Mocha Frappuccino as soon as it came out, I signed my receipt at Central Perk and trekked to the nearest Starbucks location as quickly as I could. Upon seeing the Triple Mocha Frappuccino for the first time, all I could utter was a stifled "how you doin'?" I knew it was love at first sight. It looked like a mountain of whipped cream, mocha drizzle, and coffee... but it somehow managed to taste like so much more.
I don't want to rush into anything, but after my first sip of Starbucks' Triple Mocha Frappuccino, I knew it was the one. My first sip tasted like an icy blend of mocha and coffee, and the aftertaste was even better, leaving hints of the new Sweet Cold Brew Whipped Cream in my mouth. It honestly tasted a lot like the original Mocha Frappuccino, with even more layers of full, creamy goodness. Make sure to ask for it in a Venti, though, because you'll want to take in as much as possible at once.
According to a press release, the new Triple Mocha Frappuccino will be joining the other new (and also permanent) Ultra Caramel Frappuccino on the Starbucks menu. This is also a new take on the classic Caramel Frappuccino, but with more texture, additional layers, Sweet Cold Brew Whipped Cream throughout the cup, and of course, the sweet caramel flavor Starbucks fans already know and love. The original versions of both, however, aren't being replaced. They will both be staying on the Frappuccino menu, so no tearful goodbyes will be necessary.
Another new addition to the Starbucks menu is the Sweet Cold Brew Whipped Cream (OMG). Per Starbucks' release, Sweet Cold Brew Whip is a glorious combination of cold brew coffee, dark caramel sauce, white chocolate mocha sauce, and obviously, whipped cream. Like the new frappuccino flavors, the cold brew-flavored whipped cream will also be available starting May 1 throughout Canada and U.S. Starbucks locations. May Day is looking like a real prize right about now, and as expected, I can barely contain my excitement.
If I had to come up with a title for this week, it'd probably be called something along the lines of "The One With The Permanent Menu Items." The Triple Mocha, the Ultra Caramel, and the Sweet Cold Brew Whip are here to stay, and alas, everything is right in the world. They won't run off to Minsk to make any scientific discoveries, or get cold feet before we ultimately decide to spend our lives together. Aside from being loyal, each of them happen to be incredibly delicious. In all honesty, I could probably finish a Triple Mocha Frappuccino in the blink of an eye. Oh, sorry, did you want a sip? Joey doesn't share food.