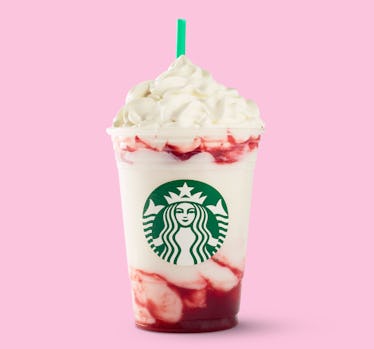 Starbucks' New Serious Strawberry Frappuccino Will Be Here Longer Than The Summer
Starbucks
I'm going to be super candid with all of you — I'm a diehard fan of millennial pink — BUT — ever since my Blue's Clues days, magenta (aka Blue's gal pal on the show) has continued to be my single most favorite color. And now that Starbucks' Serious Strawberry Frappuccino takes on the deep pink hue that I've always known and loved, I will forever be sipping on that creamy, strawberry goodness. I'm head-over-heels obsessed.
Starting on Tuesday, June 5, Starbucks is releasing the latest and greatest addition to their permanent Frappuccino menu: the Serious Strawberry Frappuccino. According to a press release, the drink combines rich swirls of strawberry puree with the new-and-improved Strawberries and Crème Frappuccino. The new Strawberries and Creme Frappuccino, in case you haven't already tried it, combines ice, milk, and, of course, their signature strawberry infusion blend. In all honesty, it sounds like the drank of my dreams. The best part, however, is that it's topped with a decadent strawberry puree, as well as vanilla whipped cream. It truly redefines "bae," and aside from the fact it's my fave shade, it tastes incredibly refreshing. TBH, it's everything I've ever wanted and more.
Just look at her, ain't she a beaut? Take a second to glance over all of that rich vanilla whipped cream, the sweet strawberry syrup, and, most importantly, the gorgeous coloring. While its strawberry flavoring seems absolutely perfect for the summer season, it's going to be available 24/7, for 365 days out of the year. Even in the cold winter months of December, January, and February, you'd better believe I'll be sipping this forever and ever. If I'm being completely honest, I could use one of these babies right now. My dear Serious Strawberry Frappuccino, I love you long time.
The debut of the Strawberry Fusion Frappuccino comes hand-in-hand with Starbucks' latest and greatest food item, the Chicken Chorizo & Tortilla Sous Vide Egg Bites. According to the press release, these delightful little snacks will be joining the permanent menu as well on Tuesday, June 5, alongside Starbucks' original egg bites, the Bacon & Gruyere, and Egg White & Red Pepper bites. And, let me tell you — I am pumped to try these. Each of them are made with love, combining with spicy chicken chorizo, tangy chipotle salsa, and, of course, salty corn tortilla chips. It's the tasty little side kick I've always wanted — and based on the raging popularity of Starbies' OG egg bites, these are sure to be a hit.
The release of these two new items follow May's addition to the permanent menu, the Ultra Caramel Frappuccino and the new Triple Mocha Frappuccino. Both are pretty much like glorious glow-ups to the classic Caramel and Mocha Frappuccinos, and TBH, they're both fantastic. The Ultra Caramel Frappuccino tastes like a combo of thick, creamy coffee and caramel, and the Triple Mocha Frappuccino is somewhat like a rich caffeine boost, adding chocolatey goodness to a frozen cup of coffee. Both are layered with Starbucks' newest whip, the Sweet Cold Brew Whipped Cream, and it makes for the perfect midday pick-me-up.
Magenta is pretty much the only color I wear (besides black of course), so it's clear that the Serious Strawberry Frappuccino is going to be my best new accessory. Not only will it match my outfits on a regular basis, but it gives me a taste of summer (even when it's winter) — and TBH, it makes me the happiest gal on the planet. It's a solid follow-up to the Ultra Caramel and Triple Mocha Frappuccinos, and I couldn't be more excited for all of these fantastic (and permanent) delicacies.