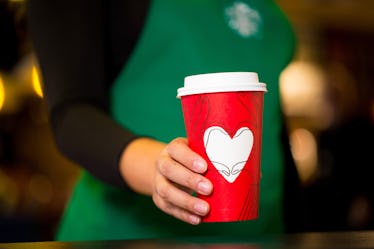 Starbucks Released Another Holiday Cup & The Meaning Behind It Will Make You Swoon
Starbucks
That Peppermint Mocha is good, but the meaning behind the cup it comes in is even better. Your favorite coffee company continues to take the holiday season to the next level not only with its flavors, but its image. Starbucks' new red holiday cup celebrates the season and, more importantly, one another, which will make that hot chocolate taste even sweeter.
For a limited time beginning Nov. 28, Starbucks locations worldwide unveiled an adorable new seasonal design. The cup's red background is accompanied by a white heart and two hands coming together. The aesthetic might be simple, but its message packs a big punch.
"The holidays are about remembering what it means to give love and put goodness out into the world," Leanne Fremar, executive creative director for Starbucks, said in a statement. "We loved the idea of celebrating the good in each other this holiday season."
The company certainly takes this seriously. Not only is it providing customers with a sweet way to hold their morning cup of joe, but it's giving back — truly emphasizing its message of celebrating good in one another. During the season, Starbucks will honor 25 charities as part of the Upstanders Challenge, donate to the Global Fund to help Fight Aids, and partner with Spotify to donate $1 million to foundations backed by artists such as Chance the Rapper, Lady Gaga, and (my personal favorite) Metallica.
But it doesn't stop there. Limited-edition Starbucks gift cards feature the three artists and represent the causes they're backing: youth empowerment, education, and veterans. Also, with every Peppermint Mocha, Toasted White Chocolate Mocha, Caramel Brulée Latte, or Eggnog Latte purchased in on Dec. 1 in participating locations, Starbucks will contribute 25 cents to the Global Fund to help fight AIDS. To celebrate the Upstanders Challenge, the Starbucks Foundation has awarded more than half a million dollars in grants to various charities.
Who knew a cup of coffee could be so powerful? This year was the first time Starbucks debuted a color-in holiday cup, courtesy of illustrator Jordan Kay. It features presents, hearts, and hands joining together to symbolize unity. The red cup newbie, also by Kay, serves a similar purpose.
"[It's] a clean design, with the heart as a space where people can highlight someone in their life who makes the season special," Kay said in a statement. "The design symbolizes the love and warmth felt during the holiday season, when we connect with friends and family."
Oddly enough, the original holiday cup didn't start out this way — and no, it wasn't red. The debut seasonal cup in 1997 was magenta, but also came in sapphire, emerald, and amethyst. It featured swirled designs of holly leaves and coffee beans — adorable, but so different from what we receive today. Do you remember these bad boys?
It's hard to believe that the 20-year-old tradition started out so differently. Since then, the seasonal styles have caused quite a bit of controversy amongst some Grinches and Scrooges. After a commercial was released promoting the new design of the 2017 cup, some insisted that the two cartoon women in the short sketch were promoting homosexuality — and in turn, what started off as a sweet message turned into a debate, especially over the two hands Kay designed on the cup.
People can debate the cups all they want, but at the end of the day, Starbucks is not only looking to provide some delicious sweets, but make a difference to the community it serves. Happy holidays, indeed.
Check out the entire Gen Why series and other videos on Facebook and the Bustle app across Apple TV, Roku, and Amazon Fire TV.