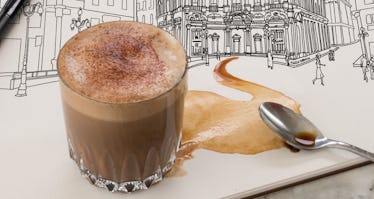 This New Starbucks Drink Will Make You Feel Like You're On A European Vacay
Courtesy of Starbucks
Starbucks is opening its very first Starbucks Reserve Roastery in Milan, Italy. To commemorate the occasion, Starbucks is launching a brand new drink that will transport you to Milan's picturesque cobblestone streets. Not to mention, Starbucks' new "Cordusio" drink is the perfect brew for fall when the crisp, cool autumn air rolls in.
The Starbucks Reserve Roastery in Milan will open its doors to the public on Friday, Sept. 7 for the very first time. It's a big deal because this is the first Starbucks location ever in Italy, according to Starbucks. That's why the Seattle-based coffee retailer created the Cordusio, a celebratory drink to kick off its very first Italian adventure.
At its core, the Cordusio is an espresso drink, according to Starbucks. The dark and bold flavors of espresso are then blended with rich and creamy whole milk and mocha sauce. Finally, the drink is topped with a sprinkle of cocoa powder to balance it all out. The Cordusio will only be sold in "short" 8-ounce cups, according to Starbucks. Starbucks' latest drink is a nod to Europe's extraordinary coffee scene. Italy is often regarded as the birthplace of espresso, so you know the Cordusio is one for the books.
If an Italian vacation is in your future, by all means, make sure to stop by the Starbucks Reserve Roastery in Milan and order the elegant new brew. For those of us who won't be trekking to Europe anytime soon, Starbucks is bringing the tastes of Italy right to you. Starting on Thursday, Sept. 6, the new Cordusio beverage will be available for purchase at participating Starbucks locations in the United States while supplies last. It will also be available throughout Mexico, Peru, and Europe. Starbucks hasn't said how long the Cordusio will be hanging around, but it will only be available for a limited time — so make sure to order this one sooner rather than later.
The Cordusio is appropriately named after the Piazza Cordusio, the newest roastery's location, according to Starbucks. The region is a bustling cultural district in central Milan full of upscale shopping, fine dining, banks, public transit and more. The new Starbucks Reserve Roastery is just steps away from some of Milan's most well-known landmarks like the Milan Cathedral and the famous La Scala opera house.
Additionally, Milan is home to some of the most notable and architecturally-pleasing coffee shops in the world. The new Starbucks Reserve Roastery is no exception. With 25,000 square feet to explore, visitors will get a full 360-degree look at the craft and science of coffee roasting. So, in addition to a well-made cup of coffee, you'll also gain insight into all that the European culture has to offer when it comes to brewing the perfect blend of coffee.
I don't know about you, but I'm already browsing flights to Europe. I'm a diehard Starbucks fan and I've never been to Italy. This just may be my excuse to hop on the next flight out. Well, maybe not that quickly. For now, I'll enjoy sipping on the Cordusio stateside during those chilly fall mornings. Saluti!