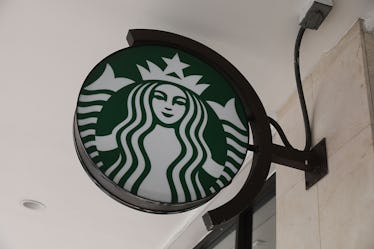 This Starbucks Bubblegum Frappuccino Will Totally Make You Feel Like A Kid Again
Joe Raedle/Getty Images News/Getty Images
Starbucks is whipping up two new Frappuccinos that are a serious blast from the past. Remember asking your mom for a quarter so you could get a gumball from the gumball machine? I totally do. Or snacking on endless clouds of cotton candy? There's a catch, though. The throwback beverages are only available south of the border. It may be worth the trip because Starbucks Mexico's Cotton Candy and Bubblegum Frappuccinos bring the nostalgia. Just one sip is probably enough to make you feel like a kid again.
As part of their #BackToTheFlavor campaign, Starbucks Mexico is throwing it way back to the days of your childhood. Mexican Starbucks locations are serving up the Cotton Candy Frappuccino and Bubblegum Frappuccino for a limited time, according to INSIDER. Elite Daily reached out to Starbucks for comment to see if the Cotton Candy or Bubblegum Frappuccino flavors will make their way to the United States, but did not hear back at the time of publication. If you're planning a trip to Mexico soon, you should know that the Cotton Candy Frappuccino and Bubblegum Frappuccino are only available at participating locations throughout the country.
In a tweet from Starbucks Mexico, the account posted a video featuring one of the new Frappuccinos with the caption, "What was your favorite childhood surprise? This season we bring you a very special one that will take you back to your happiest moments."
There are no specific details about the ingredients that go into the Frappuccinos or how they are made. According to INSIDER, the Bubblegum Frappuccino is pink and the Cotton Candy Frappuccino is blue. I'm more of a cotton candy girl, myself. (Blue raspberry is a personal favorite.) The limited-release Frappuccinos look light and fluffy in the same way the Ultra Caramel Frappuccino and Triple Mocha Frappuccino do. Perhaps the new icy-blended drinks are layered together in the same way? Both the Bubblegum Frappuccino and Cotton Candy Frappuccino are topped with the usual Starbucks whipped cream.
When it comes to food and drinks, 2018 seems to be the year of total childhood nostalgia. Recently, Burger King partnered up with Coca-Cola to bring back your favorite '90s soda, Surge. Not long after that, Kellogg's announced that it would be reviving it's beloved '90s Pop-Tarts Cereal in Frosted Cinnamon Brown Sugar and Frosted Strawberry flavors. I'm not mad about it, either.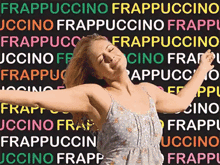 The thought of Starbucks Mexico's Cotton Candy Frappuccino and Bubblegum Frappuccino is enough to make me feel like I'm a kid again. I haven't been to Mexico in years, but this just might be a reason to explore a quick getaway to the tropical paradise.
If traveling isn't an option for you, there may be a temporary solution. You can order a Bubblegum Frappuccino from the secret menu, according to StarbucksSecretMenu.net. The site is not associated with Starbucks, but it provides drink recipes to help customers try out new beverages not offered on the official menu. The site also has a recommendation for building your own Cotton Candy Frappuccino. It starts with using the Vanilla Bean Frappuccino as the base and adding raspberry syrup. Who knows if it's made the same way, but it could be worth a shot.