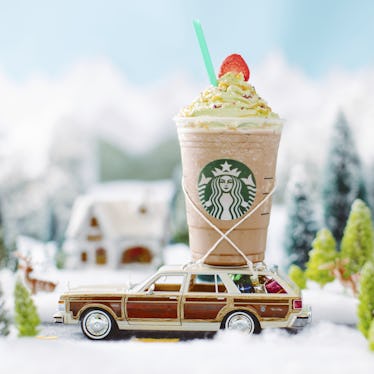 Starbucks' New Christmas Tree Frappuccino Will Only Be Available For These 5 Days
Starbucks
Do you like Christmas trees? Do you like frappucinos? Assuming the answer is yes (because... duh), get ready to have your mind fully blown. There is officially a frappuccino that looks just like a Christmas tree, which means all of our holiday wishes have pretty much come true. And if you're wondering how long Starbucks' Christmas Tree Frappuccino will be available, the answer is: a limited time. So act fast. Like, really, really fast.
Get that Instagram filter locked and loaded, because you can only snag a Christmas Tree Frappuccino at participating U.S. and Canada stores from Dec. 7 through Dec. 11. It is deeply unfortunate that there is such a small window of time to pick up such a peak holiday drink — but that just means you are fully allowed to engage in an overload of sugary drinks during those glorious five days.
And it genuinely does look glorious. The drink starts out as a Peppermint Mocha Crème Frappuccino, and then is topped with a Matcha whipped cream "tree," caramel drizzle "garland," candied cranberry "ornaments," and polished off with a strawberry. Sadly, there's no way of telling exactly what this concoction will taste like until tomorrow, but my best guess is that it will be somewhere in the ballpark of a peppermint, fruity, ultra sweet wonderland fantasy.
But don't just take my word for it. Take a close-up look at the frappuccino. It's almost too pretty to drink. Almost.
If you can't make the teeny tiny five-day window, don't worry. There's plenty more elaborate Starbucks holiday drinks that are sticking around on the menu. They will definitely help you get into the holiday spirit (and will probably only make you feel marginally ill).
The holiday themed drinks range from the delicately pretty to the positively insane.
Let's start with the delicately pretty. First off, you can order a Peppermint Mocha drink, which is made from espresso, steamed milk sweetened with chocolate and peppermint, all topped off with whipped cream and chocolate curls. Are you drooling yet?
You can also snag a Gingerbread Latte, which involves a mixture of sweet and spicy gingerbread, espresso, steamed milk, whipped cream, and ground nutmeg.
Annnnd there's also a Toasted White Chocolate Mocha, which is an espresso complete with toasted white chocolate mocha sauce, steamed milk, whipped cream, and a candied cranberry sugar.
Now, let's head over to the positively insane portion of the menu. These items are actually found on Starbucks' secret menu, which means they're wildly creative and it's a little bit of a crapshoot as to whether or not they'll actually taste good. But, you know, YOLO.
For instance — you can literally order Butterbeer and pretend for one fleeting moment that you're a Hogwarts student. This one involves a shot of espresso, two pumps of cinnamon dolce syrup, two pumps of toffee nut syrup, and two pumps of caramel syrup.
You can also grab a Candy Cane Frappuccino, which is a Vanilla Bean Frappuccino, with one to two pumps of peppermint syrup.
But, for the love of God, do not order the the Unicorn Frappuccino. In a since-deleted viral video rant, Starbucks barista Braden Burson went off on the drink, complaining about how ridiculously difficult it was to make. He said,
Today, it came out, and I have to tell you, PLEASE DON'T GET IT. I have never made so many Frappuccinos in my entire life... My hands are completely sticky. I have unicorn crap all in my hair and on my nose. I have never been so stressed out in my entire life. If you love us, as baristas, DON'T ORDER IT!
OK, so no Unicorn Frappuccino for us. But definitely ready to drink alllll the Butterbeers that Starbucks has to offer.