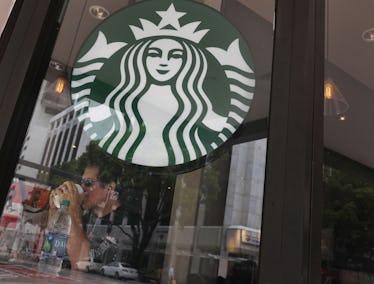 An Avocado Chocolate Starbucks Drink Now Exists, & It's Already An Instagram Hit
Joe Raedle/Getty Images News/Getty Images
Starbucks is rolling out a new Frappuccino that looks exactly like an avocado, and I'm obsessed. Get ready to say goodbye to your mortgage savings and move to South Korea, because Starbucks' avocado chocolate topped drink is the ultimate millennial's dream. While the refreshing beverage has yet to come to the United States, it's already going viral on Instagram, and you're going to want to try it.
On June 26, Starbucks Korea took to Instagram to reveal that its popular "Avocado Blended" beverage is back and more 'Grammable than ever with dark green peel details around the rim and an avocado "pit" made out of chocolate. Basically, it's a bonafide avocado in a cup, and, no surprises here, the millennial crowd is losing it. Forget Starbucks' Serious Strawberry Frapp, because the power of avocado is giving everyone major FOMO.
It's hard to believe that a country that's done basically every variation of the avo toast under the sun still hasn't managed to conjure up an avocado frapp. The Avocado Blended is apparently nothing new. According to Popsugar, the seasonal beverage has just been updated with the cute new features and was re-introduced on June 26. Three years ago, the Starbucks in South Korea first rolled out the OG version of the refreshing drink, which makes it even more mind blowing that Americans don't have a similar offering stateside yet. You've had three years, Starbucks. Three years.
What makes the FOMO even worse is that the avocado-infused concoctions are everywhere on Instagram, and they're literally so photogenic. According to reviews, the Avocado Blended features plenty of real avocado mixed with a bit of yogurt flavor and some energy-boosting caffeine, so they're also bound to be delicious.
According to Delish, one Instagram user commented, "I was so curious I bought it right away! Overall avocado yogurt smoothie flavor! It is better to chew the middle frozen avocado chunks." I mean, there's already fan art at this point, per Popsugar, so it's clear that the refreshment has quite the devoted online following.
To be fair, Starbucks has been spoiling its U.S. customers by rolling out plenty of refreshing new options stateside. While you won't find any avocado-inspired drinks on its menu, the coffee chain has been catering to the 20-something crowd with a whole host of millennial pink offerings. Starbucks' Violet Drink and Pink Drink are personal favorites, and they combine coconut milk with Very Berry Hibiscus Starbucks Refreshers or Strawberry Acai Refreshers for variations on the trendy hue. In addition, Starbucks' Serious Strawberry Frappuccino has been seriously delicious every time I've tried it, and its magenta pink color provides the ultimate aesthetic for a summer 'Gram post. I'm all about strawberry everything for the season, and the drink's updated Strawberries & Crème Frappuccino recipe mixed in with generous layers of rich vanilla whipped cream and strawberry fruit puree is both the look and the flavor you'll want during the warmer months. It's basically a win-win in a cup.
That being said, these drinks are still down an avocado or two, and you just might have to make the trip to South Korea to test out these seasonal avocado and caffeine-laced smoothies in the next few months. What better way to assuage your summer wanderlust by going somewhere you've never been before and sampling millennial-approved sips that you know you won't see on anyone else's account? Throw in a glass of Starbucks Korea's Cool Pineapple Starbucks Fizzio, and you'll have plenty of unique and refreshing beverages to cool you down while you explore Seoul and make memories. If anything, you're going to want to do it for the 'Gram.