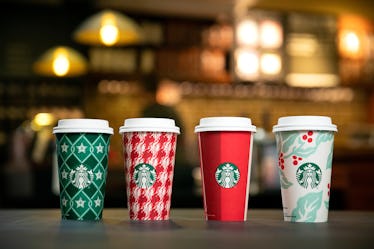 You Can Score Free Coffee & Tea In January With Starbucks' Black Friday Refill Tumbler
STARBUCKS
On Friday, Nov. 23, thousands of shoppers looking to get their early morning coffee fix will head to their nearest Starbucks storefronts to fuel their shopping adventures and, while they're at it, hopefully pick up some Black Friday deals on their brew of choice. While you're charging up with some caffeine during a full day of retail therapy, you can also take advantage of some pretty great holiday deals at the coffee giant that'll kick in with major savings come 2019. Starbucks' 2018 Black Friday sale includes free Grande coffees and teas every day during the month of January with the purchase of a refillable tumbler, and it's the best deal to fuel your coffee habit.
Starting on Nov. 20, customers can head into their local Starbucks to purchase the Starbucks Brewed Refill Tumbler, which will guarantee you free coffee or tea all January long, according to a Starbucks rep. Here's how the deal works. The stainless steel 16-ounce tumbler is retailing for $40 and will be available for purchase while supplies last. While you can't pick up any complimentary coffees with the tumbler on Black Friday, you can bring it back to a Starbucks location anytime from New Year's Day through Jan. 31, 2019, and voila, you've got your choice of one free Grande brewed hot coffee or hot tea every day that the promo is going on. You can literally get a free Grande coffee all 31 days in January, which means that you'll definitely be starting the new year off on your best caffeine-fueled foot.
I did the math, and considering that a Grande (16-ounce) hot brewed coffee normally retails for $2.10, getting just 20 days of coffees on the house would make the cup pay for itself. If you have a regular (read: daily) Starbucks coffee habit, you'll basically be saving $25.10 during the month of January by purchasing the reusable tumbler.
Some fine print applies, but it's pretty minimal, according to a Starbucks rep. For instance, there's a limit of one free coffee or tea per day, and customizations or modifications like adding a splash of coconut milk or a vanilla syrup will incur an additional charge. In addition, Starbucks Reserve coffees are excluded from the deal. The biggest thing I noticed is that the stainless steel tumbler is only available "while supplies last," meaning that there's a chance that they could sell out before Black Friday. If you're really looking to get in on these savings, I'd head to your Starbucks a few days before and pick one up before the retail madness ensures.
While you wait for your free coffee deal to kick in, there's also Starbucks' selection of holiday drinks to make your shopping spree a little more bearable. In addition to the fan-favorite Peppermint Mocha Latte returning for its 16th year, the Toasted White Chocolate Mocha, the Chestnut Praline Latte, the Caramel Brulée Latte, the Gingerbread Latte, and the Egg Nog Latte are all making appearances at Starbucks locations.
Although it's not a Black Friday-specific deal, you can bring your reusable red cup ($2.50 at Starbucks storefronts) to score 50 cents off your holiday caffeine fix all day long on Nov. 23. According to Starbucks, the special deal goes from now until Jan. 7, so you can take full advantage of your discounted limited-edition drinks through the holiday retail craze. Happy shopping!