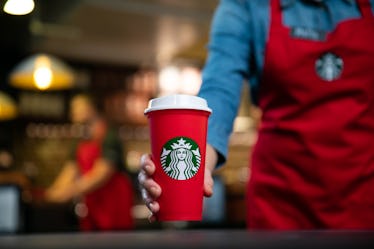 You Can Still Buy Starbucks' Reusable Red Cup To Save Money On Your Holiday Sips
Starbucks
On Friday, Nov. 2, Starbucks passed out free, reusable red cups to customers who purchased a holiday drink. Well, that is if you were lucky enough to get one. Apparently, Starbucks didn't stock up on enough of the limited edition cups because many patrons were left empty-handed. The whole situation backfired for Starbucks, but the coffee chain is trying to make it right. If you did not get a free reusable red cup, you can still get one. There's just one catch. Starbucks is selling reusable red cups, so you'll have to pay if you want to take part in the holiday deal.
To make it right, Starbucks is selling reusable red cups for $2.50, according to Today.com. Yes, I know that it's not free like it once was. But, in defense of Starbucks, the company's free cup promotion was labeled as limited edition and "while supplies last," per a tweet from the company. I'm guessing executives must have grossly underestimated just how many people would be partaking in the free holiday cup promo. Starbucks customers took to Twitter to share their disappointment, noting that it didn't take long for the cups to sell out. (People love free stuff, especially from a place as popular as Starbucks.)
Honestly, Starbucks could've just taken the attitude of "too bad, so sad". But that wouldn't have been very Starbucks of them, now would it. The coffee company, which is headquartered in Seattle, is known for their stellar customer service. Starbucks took the customer complaints to heart and decided to make the limited edition reusable holiday red cups available again.
Even though you still have to buy a cup now, it still is a fantastic deal. Starbucks' reusable red cup gets you 50 cents off of your holiday drink purchases now through Monday, Jan. 7, according to Starbucks. Think of all the money you will save. The deal started on Saturday, Nov. 3. — just one day after Starbucks gave away reusable red cups to customers that came in and purchased a holiday drink. (For anyone wondering, Starbucks tweeted that the reusable red cup is a grande size pour.)
I don't know about you, but I plan on downing a lot of Peppermint Mochas between now and the New Year. Every time I order a Grande Peppermint Mocha, it costs somewhere in the ballpark of $4 to $5. Over time, those 50 cents savings will add up to basically a free drink.
If you're wondering what other holiday drinks qualify for the reusable red cup promotion, I'm here to help. As mentioned, the Peppermint Mocha is one of the options you have to fill up your cup (and let it runneth over for a festive sip). Starbucks' other 2018 holiday drinks include:
Toasted White Chocolate Mocha
Caramel Brulee Latte
Chestnut Praline Latte
Gingerbread Latte
Egg Nog Latte
According to Starbucks, the Peppermint Hot Chocolate is also considered a holiday drink, so you can warm up with a cup the minty goodness on a chilly morning. You can get a reusable cup at participating Starbucks locations across the country. Just ask your barista for one the next time you place your order in person or in the drive-thru.