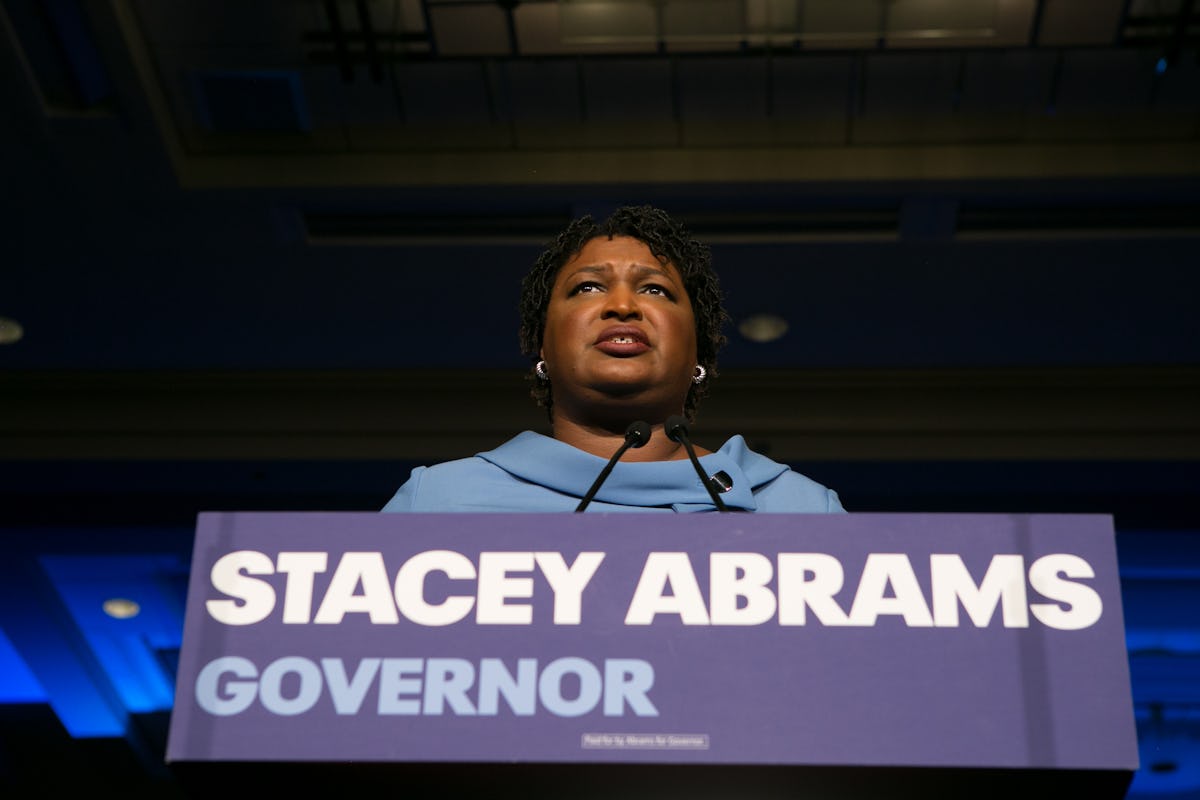 Stacey Abrams Ended Her Bid For Georgia Governor With This Fired Up Message
Jessica McGowan/Getty Images News/Getty Images
Ten days of post-election drama in Georgia have (kinda) come to an end. On Friday, Nov. 16 Democrat Stacey Abrams acknowledged that she couldn't win the race against Republican Brian Kemp, effectively ending her bid to become the next governor of Georgia. However, it wasn't the typical concession speech. In fact, she explicitly said her message wasn't one of concession. Instead, Stacey Abrams ended her bid for Georgia governor by announcing a new fight. So, the battle isn't over just yet.
In a speech shared on Friday evening, Abrams, who would have become the first black woman to be elected as governor in the United States, blasted Kemp for alleged voter suppression. For that, she said, she couldn't concede "because concession means to acknowledge that an action is right, true or proper," per CNN. She added, "As a woman of conscious and faith, I cannot concede that." Abrams then announced a "major lawsuit" against the state of Georgia. "In the coming days, we will be filing a major federal lawsuit against the state of Georgia for the gross mismanagement of this election and to protect future elections," she declared. Elite Daily reached out to Abrams' team on further comment regarding the lawsuit, but did not immediately hear back.
Abrams also revealed her plans to launch a new voting rights group, Fight Fair Georgia, per CNN. The announcement came more than a week after the Nov. 6 midterm elections, during which her team sought to ensure that every vote in the state had been counted in hopes of closing Kemp's lead, forcing a Dec. 4 runoff.
After her address, Kemp shared a statement with CNN saying:
I appreciate her passion, hard work, and commitment to public service. The election is over and hardworking Georgians are ready to move forward. We can no longer dwell on the divisive politics of the past but must focus on Georgia's bright and promising future.
The race had been marred in accusations of voter suppression by Kemp's hand, who in his role as secretary of state oversaw the election he was himself running in. In an October statement to Elite Daily, Candice Broce, a spokesperson for the secretary of state's office called allegations "bogus," adding, "It is a complete waste of our time and taxpayer dollars."
Still, the allegations prompted a lawsuit from Abrams' campaign and the Democratic Party of Georgia on Nov. 11 which claimed that over 1,000 absentee ballots in Gwinnett County were "unlawfully rejected" for missing information. It also asked that that provisional ballots from state residents who were registered in one county but voted in another be counted. In a statement shared with NBC News, Broce called the litigation a "twelfth-hour stunt." Broce did not immediately respond to Elite Daily's request for comment on the suit. On Tuesday, Nov. 13, a federal judge ruled that any absentee ballots that have been rejected due to problems with the date of birth must be counted. Elite Daily reached out to a representative of Gwinnett County's elections office for further comment, but did not immediately hear back. In a separate ruling on Nov. 12, a judge ordered that the election results be certified no later than 5 p.m. ET on Friday, Nov. 16. Abrams' speech came just before that, while Kemp was still in the lead by more than 58,000 votes, per The Hill.
Throughout it all, people haven't been happy with the situation. Former presidential candidate Hillary Clinton was one of many to rally to Abrams' side. "If she had a fair election, she already would have won," Clinton said while speaking at the University of Texas' LBJ School of Public Affairs on Tuesday, Nov. 13, according to The Statesman. A representative for the Georgia secretary of state's office, which oversees elections, did not immediately return a request for comment on Clinton's statement.
On the bright side, something tells me you could be seeing much more of Abrams than expected, following her loss. Stay tuned.