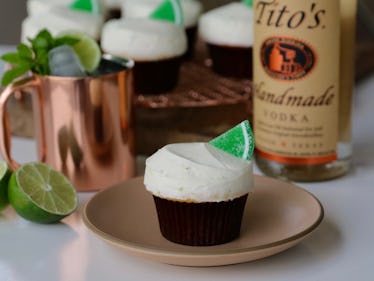 This Is When You Can Get Sprinkles' Vodka-Infused Cupcakes & I Need Them
Choosing a summertime dessert can get tricky. When the weather is hotter than normal, you're not always in the mood for a super-sweet bite, but that doesn't mean your sweet tooth goes away completely. Luckily, Sprinkles has paired up with Tito's Handmade Vodka to put a delicious twist on your favorite cupcakes. Sprinkles and Tito's Handmade Vodka's summer cupcakes are the perfect booze-inspired treats to enjoy this season.
I totally get it if you don't automatically think of vodka when you ponder your favorite cupcake flavor, but these summertime creations are like cupcake replicas of your favorite cocktails. Plus, there are two happy hour-worthy flavors to try this summer: Tito's Down Home Punch and Tito's American Mule. Oh, and you don't have to worry about getting too tipsy after tasting these sweet bites, because there is less than 5 percent alcohol by volume in each flavor, per Tito's.
While you don't have to stress over catching an unwanted buzz from these desserts, you should pay attention to the dates these cupcakes are available in Sprinkles locations nationwide. The Tito's Down Home Punch cupcake is in stores from Monday, June 25 through Sunday, July 8, and Tito's American Mule cupcake is available from Monday, July 9 through Sunday, July 22.
I know summer is filled with crazy schedules, but you'll definitely want to get in on all this cocktail-inspired cupcake action.
Need a little more convincing to lock down those dates in your calendar? Let me tell you what you can expect when you bite into the Tito's Down Home Punch cupcake, which is available beginning Monday, June 25.
Tito's Down Home Punch cupcake starts out with an orange-flavored cake filled with a berry-pomegranate compote. For the icing on top, you'll get a Tito's-infused lemon-berry marble frosting and sprinkle of of cinnamon sugar to finish it off. OK, this cupcake has the perfect balance of fruity and sweet flavors and a booze-esque kick in the frosting? Um, yum!
It's safe to say you'll be the hit of any summer shindig if you bring a box of the Tito's Down Home Punch cupcakes to the party.
Do you have a party on your summer schedule that falls on a date the Tito's Down Home Punch cupcakes are (sadly) gone from the Sprinkles menu? Don't panic, because you can totally please any crowd with Tito's American Mule cupcakes. If you're a fan a mule drink, then you know you can expect some great ginger and lime flavor in this mule-inspired sweet.
The Tito's American Mule cupcake starts out with a ginger cake that is dotted with crystallized ginger throughout. Then, you get a citrus kick from the Tito's-infused lime frosting. You can get this classic summer sip in cupcake form beginning on Monday, July 9. If you feel the urge to start counting down the days until the Tito's American Mule cupcake is available in Sprinkles stores, I am right there with you.
At first, I wasn't sure how vodka and cupcakes could combine to make a crave-worthy treat, but I am now a cocktail-cupcake convert after learning about all the delicious ingredients that go into these perfectly-sized desserts.
I probably should have known better than to question any Tito's mashup, because Tito's Handmade Vodka teamed up with Sugarfina earlier this year to create a boozy chocolate. Tito's Vodka Cordials from Sugarfina debuted in January 2018, and they are a sweet combo of dark chocolate and Tito's Handmade Vodka. That sounds super delicious, but dark chocolate is more of a "winter moment" for me.
Don't worry if you also only enjoy dark chocolate in the colder months, because Tito's is apparently a pro at giving all sweets a little extra kick. You can grab the summer-ready gummies from Sugarfina called Tito's American Mule Bears as the perfect complement to a Tito's American Mule cupcake from Sprinkles. With booze and sugar teaming up this season, it's time to order all the desserts this summer.
Editor's note: This article has been updated to reflect that the cupcakes include less than 5 percent alcohol by volume in each flavor.