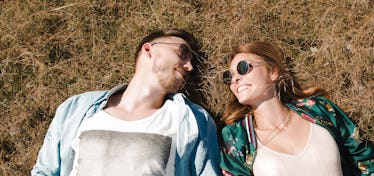 5 Spring Break Road Trip Ideas With Your Partner That'll Satisfy Your Wanderlust
As spring bursts onto the scene, many of us are getting ready to break free of familiar sights and hit the road with our special someone. Taking some spring break road trips together, sharing the uncertainty and adventure of travel is a way to strengthen your existing bonds and build new memories together. If you have no idea where you're supposed to go, then you're in a great position to adventure. Launching out into the unknown is a fantastic way to test whether you and your partner have what it takes to build a life together. I mean, there's no greater question mark than the future, and there's no better metaphor for a relationship than a road trip lasting throughout eternity. Might as well make it count.
Of course, even if you don't know where you're supposed to go it's good to have a few general directions in mind. That's why Elite Daily put together this short list of suggestions that will capture your spirit of adventure and wanderlust. Remember to leave room in your bag for the things you might find along the way, and leave room in your heart for adventure as you set out into the great unknown! This is going to be great.
1. New Orleans, Louisiana
Mardi Gras might be over, but that doesn't mean there aren't plenty of shrimp po' boys to still enjoy in New Orleans. Between voodoo tours, grabbing cocktails in the French quarter, and exploring the swamp and bayous by boat, there's enough to do in New Orleans to keep you busy for a lifetime. Don't forget to check out some jazz while you're there, too!
2. Taos, New Mexico
At this point, Taos is basically legendary for its magical landscape and its longstanding reputation as an artist's colony, and the drive to get there is no less enchanted. You'll come across a lot of neat towns driving through New Mexico, with their own unique, local history and lore. Plus, the colors and geography are absolutely to die for, so be sure to pack a camera and maybe even some watercolor paints!
3. Big Sur, California
I first took a trip to Big Sur about four or five years ago, but the experience remains firmly entrenched in my memory even today. You can drive along the Pacific Coast Highway down from San Francisco or up from Los Angeles, which literally winds right alongside the Pacific Ocean. The view in itself is spectacular, but every few miles, you'll want to pull over to see redwoods, hear sea elephants singing in their rookery, and maybe even spot some rare California condors.
4. Bloomington, Indiana
Indiana gets looked over quite often, being that it's basically the thoroughfare to Chicago. But this quaint state is full of parks and recreation areas that aren't too swamped with tourists and will definitely give you that rush of nature you've been waiting all winter to experience. Plus, the town has a fantastic music scene. Hit the town on the weekend to check out some of their local bands.
5. The Catskills, New York
The New York creative scene has long been drawn to the Catskill mountains. This region was the scene of Woodstock and the Hudson River School art movement, both of which shaped entire generations of musicians and artists. And one look at the rolling hills of green out of your car window will make you understand why. There are plenty of cute restaurants and unique boutiques along the way to give you a chance to get out of the car and stretch your legs, as well as get a bite to eat. But you won't want to tarry too long from your journey. Nature awaits.
Check out the entire Gen Why series and other videos on Facebook and the Bustle app across Apple TV, Roku, and Amazon Fire TV.
Check out the "Best of Elite Daily" stream in the Bustle App for more stories just like this!