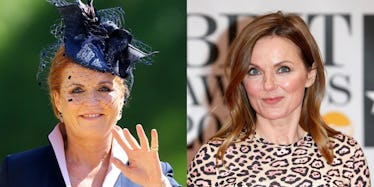 Spice Girls Fans Thought Ginger Spice Was At The Royal Wedding & TBH, I Did Too
WPA Pool/Luca V. Teuchmann/Getty Images Entertainment/Getty Images
Have you ever thought you saw your friend from behind, and you either tapped them on the shoulder, hugged them, or snuck up on them, but it ended up being a total stranger? I have way too many times to count. Well, that happened to '90s pop fans who watched the royal wedding, because Spice Girl fans thought Sarah Ferguson was Ginger Spice, and they ended up being pretty disappointed.
While watching the royal wedding on Saturday, May 19, '90s kids and Spice Girl fans alike were eagerly awaiting for the arrival of the legendary British girl group. And upon the arrival of the Duchess of York, Sarah Ferguson, several onlooking fans mistook her for Geri Halliwell (aka Ginger Spice), according to Daily Mail. But alas, it was just dear Aunt Fergie.
OK, but let's be real — the resemblance between Ferguson and Halliwell is kind of unreal. Let's analyze the two photos below. First, both of them have luscious strawberry blonde hair. Then, they both have somewhat ovular faces. They also both have blue eyes, a similar complexion, and even the same smile. Just take a look at them side-by-side and you'll see for yourself. Mixing them up would be pretty easy to do, in my personal opinion.
For reference, here's a photo of Sarah Ferguson, aka Aunt Fergie:
... and here's a photograph of Halliwell, aka Ginger Spice:
Um, OK, the similarities are apparent. See what I mean now? It's uncanny. Maybe they're distant relatives, long-lost cousins, or SOMETHING... I don't know. Regardless, people reportedly thought that sweet Aunt Fergie was Ginger Spice, and Spice Girls fans were bamboozled until the end of time.
Fans were expecting the entire "Wannabe" singing pop group to show up, as it was rumored that all five Spice Girls had been invited and RSVP'd "yes." But, an inside source reportedly told Page Six that Mel C and Mel B weren't invited, while Victoria Beckham, Emma Bunton, and Geri Halliwell were. So um, that's awkward. Victoria Beckham (aka Posh Spice) was the only one who ended up making an appearance with hubby David Beckham at her side. Needless to say, I was devastated that this wasn't the scene of yet another epic Spice Girls reunion. Aside from spicing up my life, I was really looking forward to seeing them spice up that wedding ceremony. What a missed opportunity.
Even though Bunton (aka Baby Spice) didn't make an appearance at the royal wedding today, she appeared to be celebrating holy matrimony all on her own. Earlier today she tweeted a photo of herself in a veil, with the playful caption, "wedding house party!" So even though she didn't make it to the big event, it seems like she wasn't too bummed out about missing out. I think Spice Girl fans were probably more disappointed than anyone else was, TBH.
Don't get me wrong — I was totally looking forward to the royal wedding itself. Weddings are beautiful, and Meghan Markle looked like the princess she (basically) is. But I was really looking forward to this day because I assumed all of the Spice Girls were going to be there. And, had that been the case, I was looking forward to maybe an abridged reunion concert. Even one song would have been nice. Maybe just a few verses of "Viva Forever," had that been possible. But nope, only Posh Spice showed up, and even though I swear Aunt Fergie could be Ginger Spice's body double, I really don't think she could rock out on stage... but who knows? Maybe she'll try it out for the wedding reception. It's worth a shot.