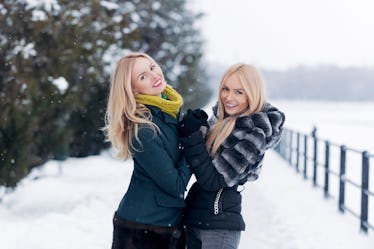 8 Underrated Reasons Why Spending A Snow Day With Your Sis Will Never Get Old
Snow days typically mean cozying up in the house and staring out your window at the snowflakes falling from the sky. As anti-climatic as that may sound, it's a leisure we've loved since childhood, with our sisters by our side. Spending a snow day with your sister is like a gift from Mother Nature to let you sit back, relax, and soak in the moments with your other half.
When you were kids, snow days were simply about getting out of going to school and building forts in the living room. Oh, and everything your parents made you do. Now as adults, you and your sis still share that charismatic demeanor and can cross an adult responsibility like work off of your schedule. Unfortunately, because you're older, you may not be able to spend that much time together, so a snow day is your saving grace.
You and your sis, chilling on the couch in your PJs, will always be the most relaxing thing in the world. She's your ride or die, and your BFF. Of course, any day spent with her is time well-spent, but those glorious snow days with her will always have a special place in your heart for a few reasons.