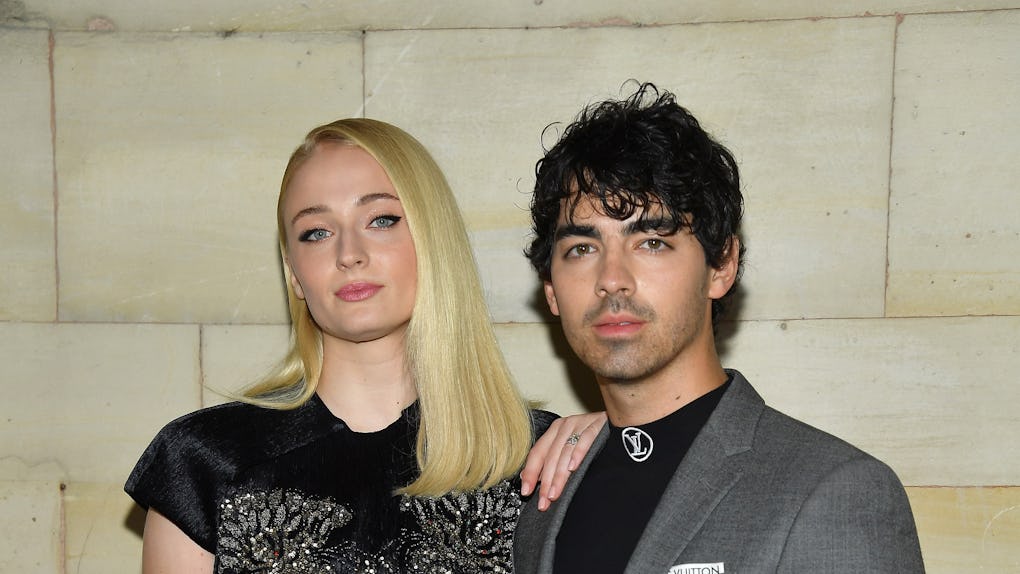 Pascal Le Segretain/Getty Images Entertainment/Getty Images
Sophie Turner & Joe Jonas' Body Language At Paris Fashion Week Was Awkward
You can tell a lot about people based on their body language. Of course, this isn't to say that looking at someone's body language will reveal how long they'll live or their deepest fears, but you get the point. Body language can also tell you a lot about couples and relationship dynamics. Such is the case with a certain Jonas brother and a Game Of Thrones star. Sophie Turner and Joe Jonas' body language during their first public appearance together says a lot about their dynamic, and it's not just that they're both ridiculously good looking.
OK, obviously they're both super attractive, but that's not the point. Interestingly enough, attending the Louis Vuitton show during Paris Fashion Week on Oct. 2, 2018 was Turner and Jonas' first public, red-carpet appearance as a couple, even though they started dating way back in November 2016 and have been engaged for about a year. Jonas popped the question in October 2017, and they seem totally happy together, albeit somewhat more reserved than other couples. They don't go to as many photographed events as other celebrity duos, and based on their body language, they seemed a little awkward at their first. But that doesn't mean they're not happy togehter. People are awkward sometimes! So, what can we tell about the inner workings of their relationship from their body language?
Well, according to body language expert Traci Brown, "They don't seem that happy at all." Unfortunately, Brown doesn't see a whole lot of love between the two at this particular event. "I'd say they're mildly irritated at best," Brown tells Elite Daily. "Is it because they're not into each other? Possibly. Do they not want to be where they are? Maybe." Ouch. Let's dive in.
1. They don't seem too happy in this photo.
Even though they're striking some very Zoolander-esque poses here, Brown says that they don't look happy. "The thing I notice is that neither are even pretending to smile," she tells Elite Daily. "And it seems like she's draped her arm over a buddy, not her main squeeze."
2. They're not in sync.
Here, Turner and Jonas seemed somewhat out of sync with each other. "She seems mildly happier here," Brown says of Turner. Perhaps the two were just trying to give their best high-fashion, above-it-all looks, but maybe it's something else. "Is it because of the other fellow? We don't know. But they're not hugging super close and he's got that same blank look on his face."
Again, this was Turner and Jonas' first red carpet together, so maybe they look out of sync because they're still learning how to pose together and present as a couple.
3. They just seem disconnected.
Finally, in this photo of the two striking another pose, Brown says the two seem disconnected. "In this one she looks even more irritated with her head tilted," Brown says. "See how her chin is up just a bit and her head is tilted away from him? Quite interesting. We don't see this at photo opps much!"
At the end of the day, Turner and Jonas seem head-over-heels happy together on social media, and red carpets aren't exactly the most natural places to pose organically, especially when it's your first time out with bae. Just because they're more private than other celebrity couples, doesn't mean they aren't totally in love, and we have no way of knowing what happened before their appearance. While it genuinely seems, based off their body language, that they weren't super into this event, Turner and Jonas are still one good looking, super talented couple, and I can't wait to see these two Lovebugs (ha!) tie the knot.