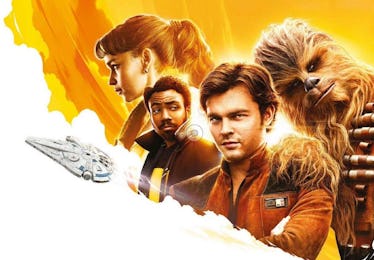 The Release Date Might Explain Why 'Solo's Box Office Numbers Tanked This Weekend
Lucasfilm
Solo: A Star Wars Story is different in a lot of aspects from the first three films released under Disney. It's the first film headlined by a man in the protagonist role instead of a woman. It's the earliest set film so far, occurring equidistant to the prequels and the Original Trilogy. And it's the is the first Star Wars film since Disney rebooted the series to be released on Memorial Day weekend instead of mid-December. Now Solo's box office numbers are in, and Disney may want to rethink releasing these films in the summer because Solo barely broke the $100 million box office mark over a four-day weekend.
For fans, this move from December to May was confusing. When the numbers for Solo's three-day haul came in at $83 million — lower than even Justice League's opening (nearly $94 million) — they took to Twitter demanding to know why. After three back-to-back films dominating the holiday box office at the end of the year, why mess with a good thing?
Lucasfilm wanted to move to the May release slot for a very nostalgic reason: They created it. Before Star Wars, there was no such thing as "Memorial Day blockbusters." Movies that preceded it, like 1975's Jaws, released in mid-June, timed with the end of the public school year. The original Star Wars, released on May 25, 1977, was the blockbuster which put Memorial Day weekend on the box office map. All six of the live-action Star Wars films prior to Disney released on Memorial Day weekend, and every one of them dominated the rest of the summer. To Lucasfilm, moving back to Memorial Day was going home.
Star Wars: The Force Awakens coming out in December was merely an accident of timing. Lucasfilm seemed hell-bent on moving back to May just as soon as they were able, with both Solo: A Star Wars Story and Star Wars: Episode IX originally announced for May in 2018 and 2019 respectively. But when Episode IX changed directors and filming was delayed by four months, the decision was made to slide it back to December 2019. That left Solo, who also had director trouble, but was *not* slid back to December, hanging out in this outlier spot on the schedule.
The result has been astoundingly bad. Solo: A Star Wars Story has a perfectly respectable Rotten Tomatoes score of 70 percent. This is lower than it's predecessors, to be sure (Rogue One: 85 percent fresh, The Last Jedi: 91 percent fresh, The Force Awakens: 93 percent fresh.) But it's not Justice League tomatometer levels by any means. So why is it struggling so badly?
Star Wars' move back to Memorial Day is a victim of its own success. Memorial Day wasn't a smart release date before the franchise made it so. But once Star Wars established this as a successful "kick-off the summer" spot, other films took it over. In fact, it got so popular, films began releasing *ahead* of Memorial Day, rolling the "summer kick-off" date backward until it became the first weekend of May. This new spot is currently dominated by Disney's *other* major franchise, the Marvel Cinematic Universe.
By putting itself in the Memorial Day weekend release spot, Star Wars showed you can't go home again. Instead of being the kick-off of summer, it's the third major blockbuster in four weeks, with Oceans 8 and Jurassic World following hard on its heels. Fans have already spent their money seeing Avengers: Infinity War multiple times and Deadpool 2 last weekend. For Memorial Day, they'd rather go to the beach.
Thankfully, Lucasfilm has time to recover. With Episode IX not out until December of 2019 now, there will be an 18 month wait for fans to get hungry for Star Wars films again. And perhaps from here on out, they should stick to the December release date.