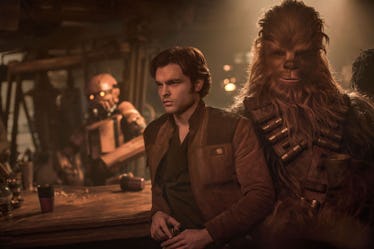 'Solo: A Star Wars Story' Ratings Are In & Fans Will Want To See It ASAP
Lucasfilm
The review embargo for Solo: A Star Wars Story has finally lifted, and with just over a week until the film arrives in theaters everywhere, there's good news throughout the galaxy, Though the reviews are not as stellar as Star Wars: The Last Jedi's were last winter, they're more than respectable enough for a scruffy-looking nerf-herder, and Rotten Tomatoes is happy to inform all and sundry the film has been "certified fresh" by its board of vegetable producers. Solo: A Star Wars Story ratings are great news for Lucasfilm, who was understandably nervous about this one.
Solo's behind-the-scenes drama has been well-documented over the last year, but it wasn't just the high profile firings of the directors with less than three weeks to go before the original filming schedule ended that had Lucasfilm concerned. From the get-go, long before the role of Young Han Solo was cast with Alden Ehrenreich, there was a sense of unease about this film. Not that the subject matter wouldn't be popular, not that the stories to be told wouldn't be high flying hi-jinx of one kind or another; but Star Wars, ever since it rebooted under Disney, has been a model of "How To Diversify Without Really Trying." They made putting people of color and women in the lead roles after generations of white men held them for so long look easy.
Solo, in comparison, is a return to the Star Wars of old, where having the self-confidence of a mediocre white man and a blaster was all one needed to succeed in the galaxy. That story's been told before. In fact, many argue it's been done to death. In a franchise pushing boundaries forward, what was the point of telling a story that perhaps wasn't so necessary?
There are some reviews suggesting Solo didn't answer this question, which is why the film stands at 73% fresh, instead of Rogue One's 85 percent fresh, or The Last Jedi's 91 percent fresh. (The Force Awakens still holds the top fresh rating for the Star Wars reboots with 93 percent.) To quote Slate's review for instance:
Solo isn't the worst Star Wars movie—your record is safe, The Phantom Menace—just the one with the least compelling reason to exist. But being unmemorable doesn't mean it's unlikable. There's too much collective charisma for that
And collective charisma is what tickets sales are running on. (Especially that of Donald Glover, who previewed his Lando character on Saturday Night Live recently.) According to Deadline, after tickets went on sale on May the Fourth, the film was tracking to potentially break box office records.
Disney/Lucasfilm's Solo: A Star Wars Story has landed on tracking and the Memorial Day release per industry projections (not Disney) are forecasting a Friday through Monday start of $170M-plus at the domestic box office.
Obviously, this is nowhere near Avengers: Infinity War or Black Panther level numbers, but it's still quite high for a Memorial Day weekend opening, and more than enough to knock the current record holder for Biggest Memorial Day Opening Weekend off their pedestal. (For the record, that would be Pirates of the Caribbean 3 which, according to Box Office Mojo, opened with $139 million back in 2007.)
Of course, the film's release is still over ten days out, and much could change to affect the weekend numbers by the time Star Wars gets there. But with Lucasfilm finally returning to the Memorial Day Weekend opening which they were the first to make a thing back in 1977, these kinds of projected numbers promise a happy homecoming indeed,
Solo: A Star Wars Story arrives in theaters May 25, 2018.