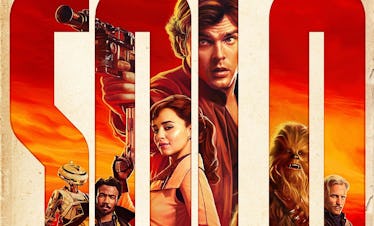 5 'Solo: A Star Wars Story' Theories That Will Get Have You Lining Up At The Theater
Lucasfilm
The reviews are in and Solo: A Star Wars Story is officially certified "fresh" on Rotten Tomatoes. Ticket sales have been through the roof, and if estimates are to be believed, Star Wars' return to the Memorial Day weekend release date they once occupied will be a triumphant one. But with spoilers still deep undercover, fans are obsessing over what might be happening in the brand new Han Solo based prequel. Some of the Solo: A Star Wars Story theories are so out of this world, they seem to have flown in from another galaxy altogether.
Some things have been confirmed about the film. It's set 10 years after the end of the Clone Wars, and the events of Revenge of the Sith. The Empire is fully in control of the galaxy, there is no rebellion or resistance to speak of. Darth Vader is in his prime ruling years. Han, a young man from Corellia, dreams of escaping with his friend Qi'ra, but something goes wrong. She gets out, he does not. Instead, he joins the Imperial army, in hopes of becoming a pilot.
He fails out of flight training and winds up a ground trooper, one desperate to escape his circumstances. Until one day he discovers two smugglers attempting to infiltrate his unit. Rather than turn them in, he tries to convince them to take him along.
What happens next? Here are five of the most plausible theories out there.