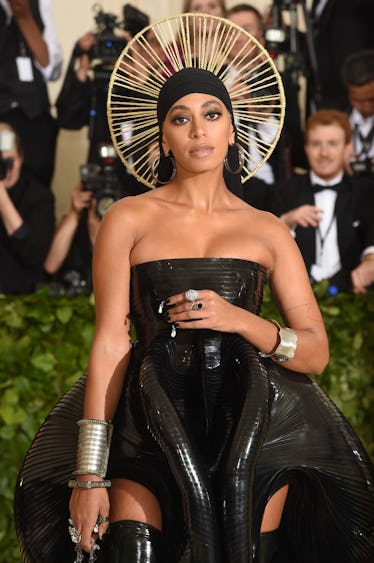 You Probably Missed Solange Knowles' Spiritual Accessory At The Met Gala
Jamie McCarthy/Getty Images Entertainment/Getty Images
The Met Gala is the biggest fashion event of the year, and stalking all of your favorite celebs' creative looks is such a good time. All eyes are generally on the extraordinary and beautifully designed dresses, but in some cases, the bold accessories like bags, headpieces, or jewelry will be what really catches your eye. Solange Knowles' Florida Water at the Met Gala, for example, was her choice of accessory for the evening, (well, along with that gorgeous halo-headpiece, of course). You might have missed the glass water bottle because of how low-key it was compared to the rest of her outfit, but the spiritual meaning behind it is totally worth talking about.
Now, I realize you're probably wondering WTF "Florida Water" even is, and what a bottle of H2O has to do with spirituality (or fashion, for that matter). Personally, I would think "Florida Water" is just, you know, water you get from the state of Florida. But nah, fam. Solange wouldn't be that casual about her Met Gala accessory — which, BTW, was encased in a very stylish fishnet bag, in case you totally missed it Monday night when you were checking out her outfit.
Florida Water is a cologne-like liquid with a citrusy, floral scent that's most commonly known for its "spiritual properties," according to POPSUGAR. If you're religious, the outlet says, it's kind of similar to holy water.
The liquid is commonly used during voodoo practices, Wiccan ceremonies, and Santeria rituals, POPSUGAR reports, to "purify people and spaces," and promote overall good vibes in any environment. TBH, I can't help but wonder if Solange casually poured some Florida Water out on the Met Gala carpet to "purify" the space, and I kind of secretly hope she did.
So because I'm a total mind-reader, I know what you're probably thinking now: Why "Florida"? Well, according to Refinery29, the religious liquid is actually named after the "fabled fountain of youth," which is said to have been located in the state of Florida. Pretty straightforward, right?
As for other ways to use Florida Water, Refinery29 reports they're often used to cleanse someone's aura or crystals, as well as "bless objects for protection and luck." Perhaps Solange's Florida Water even charged those gorgeous crystals that adorned her fishnet bag? Just a random spiritual thought, people.
Speaking of those crystals, though, according to POPSUGAR, it was reported during an E! News segment of the Met Gala that it took more than 10 hours to craft Solange Knowles' Swarovski crystal-encrusted fishnet bag — by hand, BTW. Now that is dedication.
For what it's worth, though, the Met Gala wasn't Solange's first time dabbling in the spiritual powers of Florida Water. In a recent issue of Dazed, the 31-year-old celeb mentioned she often washes her hands with Florida Water because it helps her "feel renewed." Guys, Solange Knowles washes her hands in Florida Water, so I'm washing my hands in Florida Water.
For real, though, if you want to make your own Florida Water at home, it's actually pretty simple.
That's right, girl: There's no need to travel to an obscure spiritual shop in the sketchy part of town if you want to recreate Solange's sacred Met Gala accessory. Witchesofthecraft.com provides a straightforward recipe for DIY Florida Water, which consists of two ounces of bergamot oil, a half-ounce of lemon oil, a half-ounce of ylang ylang oil, a half-ounce of lavender oil, 10 drops of cinnamon oil, six drops of cloves oil, two cups of rubbing alcohol, and one cup of rose water. I know it sounds like a lot, but if you're already into essential oils, then you probably have a bunch of those ingredients lying around the house.
Once you get all of these essential oils in your possession, all you have to do is mix the liquids together into your very own magical creation. Then, you'll be able to use it whenever and however you want — or even freeze it for up to three months if you aren't ready to hop on the Florida Water cleansing train just yet.
TBH, my dream is for Solange to sprinkle me with some of her blessed Florida Water and cleanse me of my sins — but I suppose, for now, I'll just settle on making my own and see where the aromatic liquid takes me.