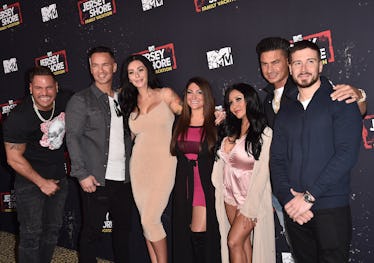 Snooki Says Ronnie's Baby Is Tanner Than She Is & TBH, We're Jealous
Alberto E. Rodriguez/Getty Images Entertainment/Getty Images
MTV executives hoping for great ratings weren't the only ones celebrating the timely arrival of Jersey Shore Family Vacation star Ronnie Magro's baby girl this week. Born only days before the April 5 premiere of the much-anticipated Jersey Shore reboot, Ronnie's daughter with girlfriend Jen Harley has already completely won over the hearts of the rest of the show's cast. In particular, Snooki's comments about Ronnie becoming a dad will totally make you envision future playdates with all of the cast members' kids.
Speaking to PEOPLE at the New York City premiere party for the new series, Nicole "Snooki" Polizzi spilled about the latest addition to the Jersey Shore family:
The baby looks just like Ronnie. She's tanner than me! I'm annoyed... After talking to Ronnie, he's already a dad from day two. He's like, 'This is the best feeling ever — my life has totally changed, I'm a completely different person.' I'm like, 'Welcome to the club, babe.' And Ronnie's so good with kids.
As a mother of two, Snooki is definitely capable of judging a guy's fathering skills. Ronnie now joins her, Jenni "JWOWW" Farley, and Pauly DelVecchio as the parents among the original Jersey Shore cast. At this rate, I have my fingers crossed for a Next Generation series in 20 years.
When Ronnie was noticeably absent from the show's London premiere party on Monday, fans began speculating that Jen had gone into labor. As Page Six later reported, Ronnie was flying with the rest of the cast to London when news of Jen's hospitalization reached him:
Halfway through the flight this weekend, he found out his pregnant girlfriend Jen Harley's water broke. The second he landed in London he turned right back around to his home in Vegas to be with her. The cast was so excited... they were hugging him at the gate.
Jen's pregnancy was first announced in December 2017, following a year that included Ronnie's stint on the show Famously Single. After filming the show, he briefly dated co-star Malika Haqq, but then got together with Jen. Her pregnancy seems to have been quite unexpected, with Snooki telling PEOPLE:
I mean, obviously sh*t happens. And I always say sh*t happens, because my kids happened. Sh*t happens and you're like, 'Oh my God, I'm not ready.' But then it happens and it changes your entire life.
Snooki's first pregnancy in 2012, which was also a surprise, was captured on the Jersey Shore spinoff series Snooki & JWOWW. She had son Lorenzo in August 2012 and welcomed daughter Giovanna in September 2014. In November of that year, she married the father of her children and former Jersey Shore hookup buddy Jionni LaValle.
Snooki's not the only cast member gushing about Ronnie's baby. Mother of two Jenni also shared her thoughts about the birth, telling PEOPLE:
I can't get over the fact that we were sleeping on the plane on the way to London and Ronnie woke us up saying, 'Jen's in labor. I have to turn around.'.. He made it. It was awesome. Want to talk about timing, right? You'll watch this season and you'll see how much Ron cares for everybody. He looks out for all the girls — he has that instinct in him, he has little sisters.
It sounds like Ronnie is smoothly transitioning to his life as a dad, but we're sure to see some of his insecurities and worries about the big change when Jersey Shore Family Vacation premieres. However, no matter how dramatic his time on the show's Miami vacation may turn out to be, Ronnie has always seemed positive about the show returning. When news of the pregnancy broke, he told PEOPLE:
It's going to be a really, really good year with the baby coming and the show coming back. It's really a blessing.
Jersey Shore Family Vacation premieres on Thursday, April 5, at 8 p.m. ET on MTV.