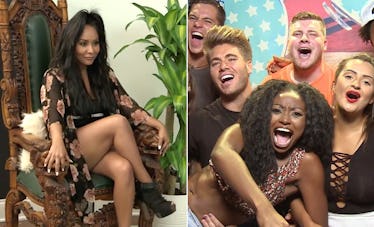 Snooki Threw Some Shade At 'Floribama Shore' On 'Jersey Shore Family Vacation'
MTV
MTV's still-young reality series Floribama Shore has been touted as the second coming of the network's biggest reality hit Jersey Shore since it premiered last year. But at the same time that Floribama Shore was poised to inherit Jersey Shore's reality juggernaut status, Jersey Shore made its big return with Jersey Shore Family Vacation. The two series have not really mentioned one another, but Floribama just got a shout out a Jersey Shore shoutout. Snooki threw shade at Floribama Shore on Jersey Shore Family Vacation during Thursday night's new episode, but don't expect a feud to break out, because it was definitely more funny than actually mean.
On Thursday night's episode of Jersey Shore Family Vacation, Snooki booked the roommates a new shore house to party at... except it was more of a mansion in the suburbs than a shack on the beach. Since Snooki and Ronnie were the first two people to show up at the house, they wasted no time in reinstating the spiral squad and getting totally wasted. After the two were already plastered and out at a club, Angelina arrived and hopelessly tried to catch up to her roommates before Snooki passed out almost immediately.
The next morning, Angelina told a still super hungover Snooki that she tried to spoon with her when they got in bed, but they wound up waking up in separate beds. Angelina said that she thought Snooki switched beds because she was worried that Angelina was going to pee in the bed, to which Snooki replied:
What are you, Floribama? They pee in each other's beds.
The remark stood out because Jersey Shore Family Vacation and Floribama Shore have not really mentioned one another at all throughout their two-season runs. As Floribama fans know, Snooki is referring to the big event in the series premiere of Floribama Shore, when Kortni drunkenly rolled out of bed and peed in her roommate Candace's bed.
That event went on to cause the first major fight within the Floribama Shore house, although Kortni and Candace actually grew to become close friends in the recently concluded second season of the show (despite some dicey rough patches).
Snooki's comment also highlights some of the major differences between wild, out-of-control Floribama Shore and the ever-so-slightly more toned-down Jersey Shore Family Vacation. While Floribama features the hard partying, heavy drinking, and slurred screaming matches that are more reminiscent of the original Jersey Shore, the Jersey Shore reunion series can often veer to somber or darker more adult issues, which makes sense since the cast is now all grown up with kids and significant others.
But still, the two shows share much more in common than they have differences, and it might actually be a fun idea for MTV to get a crossover going. Imagine Snooki talking about mermaids for hours on end with Aimee, or Ronnie trying to out-flex Jeremiah, or Vinny and Gus sharing diet tips. Seriously, MTV, where is out Jersey Shore/Floribama Shore crossover episode?
Jersey Shore Family Vacation airs Thursday nights at 8 p.m. ET on MTV.