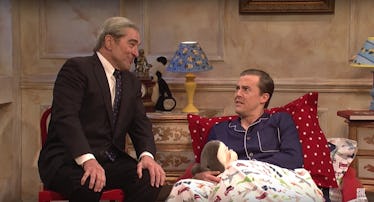 Robert De Niro As A Boogeyman Robert Mueller On 'SNL' Is A Nod To Cohen's Sentencing Memo
On Saturday, Dec. 8, Robert De Niro marked his return to the Saturday Night Live stage as a dead ringer for Special Counsel Robert Mueller. Just one day earlier, federal prosecutors delivered a memorandum along with more details from Michael Cohen's guilty plea, and Saturday night's cold open was a nod to the potential political implications of these documents. SNL's sketch with Robert De Niro as Robert Mueller has the boogeyman paying Eric Trump and Donald Trump Jr. a nighttime visit, and it's full of references to the Cohen sentencing memo.
The video opens with Donald Jr., aka Mikey Day, reading The Night Before Christmas to a childlike Eric, played by Alex Moffat. While learning what words like "contraction" and "indictment" mean, Eric — who's clutching a shark stuffed animal in his race car bed — tells his big brother that he's worried about the boogeyman coming to get them.
"Have you been watching the news again?" Don Jr. asks. "You can't watch that stuff, bud. It's too grown-up."
When a terrified Moffat tells his big bro that he hears a noise coming from his closet, Donald Jr. has a simple explanation ("That's just the cheap steel dad uses to build his towers," he says) before heading out to take a phone call from his lawyer. That's when the boogeyman, aka De Niro as Mueller, comes out of hiding.
"It's just me, Robert Mueller — your dad's friend from work," De Niro reassures him. "I'm not allowed to talk to you," Moffat's Eric retorts, clutching his stuffed animal. Mueller calms him down by responding, "That's fine, Eric. It was pretty clear early on that you don't know anything. I wish I could say the same for some of your dad's friends."
In between references to "federal inmate 10358," his nickname for President Trump's former personal lawyer, Michael Cohen, De Niro's Mueller has a reassuring message for the man-child.
"Eric, I just came here to let you know, no matter what happens, America is going to be just fine," he tells Moffat. "It's a place full of good people."
"Like my dad?" Eric asks, to which Mueller deadpans, "Let's put a pin in that."
Later, Moffat's Eric muses, "People say you're the worst thing that ever happened to my dad," and De Niro's response is met with cheers from the audience.
"No Eric," Mueller says. "Getting elected president was the worst thing that ever happened to your dad."
While the SNL skit had a few technical hiccups with De Niro straining to read his cue cards (and appearing to miss a few altogether), it touched on the Cohen drama that's been dominating the news cycle in recent weeks.
On Friday, Dec. 7, a memo was released that not only appeared to shed light on further misconduct from Trump's ex attorney, but also appeared to implicate the President in potentially criminal actions. Elite Daily previously reached out to both Cohen's representatives and the White House for comment about the guilty plea, but did not hear back.
While President Trump took the damaging memo as a moment to celebrate ("Totally clears the President," he wrote on Twitter on Friday. "Thank you!"), the filing on Dec. 7 appears to show that Trump potentially committed a campaign finance violation by playing a part in Cohen illegally paying off two women who claimed they'd previously had affairs with the president. Trump has repeatedly denied the allegations of the affairs. Elite Daily reached out to the White House for comment on the allegations in the Dec. 7 filings from SDNY, but did not hear back at the time of publication.
Cohen is set to be sentenced on Wednesday, Dec. 12 (SDNY prosecutors have asked for a "substantial" sentence of four years in jail), and I'm sure SNL fans will be tuning in on Saturday night to watch the network's latest take on the situation.