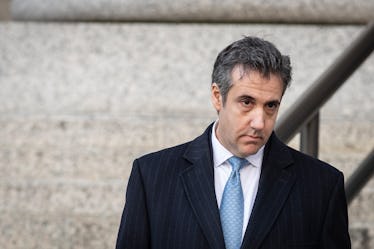 Prosecutors Recommend A "Substantial" Sentence For Michael Cohen, Despite Everything
Drew Angerer/Getty Images News/Getty Images
Do you feel like you've been waiting for the Michael Cohen saga to come to a close for a while now? It seems like the story keeps unfolding with no end in sight. But the moment many of us have been waiting for is inching forward. On Friday, Dec. 7, federal prosecutors handed in a sentencing recommendation for Michael Cohen, and from the details it looks like a major blow for the former Trump confidante.
In the filing, prosecutors said that Cohen's crimes "marked a pattern of deception that permeated his professional life," per The New York Times, and recommended what they called a "substantial" sentence of four years in prison. "He was motivated to do so by personal greed, and repeatedly used his power and influence for deceptive ends," the sentencing memo read. Elite Daily reached out to representatives of Cohen for comment, but did not immediately hear back.
Cohen is set to be sentenced on Dec. 12 on two separate guilty pleas: one for campaign finance violations and other financial crimes, and one for lying to Congress regarding Trump's business connections in the lead up to the 2016 presidential election. The second charge was brought by the office of Special Counsel Robert Mueller, who is investigating possible collusion between the 2016 Trump presidential campaign and Russia. Under federal guidelines, Cohen faced four to five years in prison on the initial charge, and six months on the second, per the Times. Prior to the filing, Cohen asked for no prison time because of his cooperation with investigators, according to USA Today. However, prosecutors clearly didn't agree.
It's likely a bit of a disappointment to Cohen, who had previously promised to cooperate with prosecutors regardless of his sentence. However, Mueller said that he was not taking a position on Cohen's sentence, per CNBC, and simultaneously noted that Cohen had given his team "useful information concerning certain discrete Russia-related matters core to" the investigation into possible Russian collusion. Whatever Cohen was able to reveal, it wasn't enough to encourage prosecutors to recommend no prison time at all, unlike former National Security Adviser Michael Flynn, for whom prosecutors filed a sentencing recommendation earlier this week.
About a week before prosecutors filed Cohen's sentencing papers, President Donald Trump's former attorney made a surprise appearance in a Manhattan federal court on Nov. 29 and confessed in his plea deal to making false statements to the Senate Intelligence Committee regarding a Trump Tower deal in Moscow during the 2016 presidential election, according to The New York Times. Elite Daily reached out to representatives of Cohen and the White House for comment, but did not immediately hear back. The office of the special counsel confirmed the plea, but did not provide any additional comment. In addition, Cohen also confessed to playing down the role of "Individual 1" in the Moscow deal. Sources later reportedly confirmed to The New York Times that "Individual 1" is Trump. The White House did not respond to Elite Daily's request for comment on the subject.
Prior to his Nov. 29 confession, in August, Cohen pleaded guilty to eight counts of financial fraud, including five counts of tax evasion, one count of making false statements to financial institutions, one count of unlawful corporate contribution, and one count of making an excessive campaign donation, according to The New York Times. While confessing to breaking campaign finance laws to prosecutors in the Southern District of New York, Cohen appeared to also implicate Trump. Cohen confessed to making $280,000 worth of payments to Stormy Daniels and Karen McDougal — two women who claim to have had affairs with Trump and paid in exchange for their silence — "in coordination and at the direction of a candidate for federal office," according to the Los Angeles Times. Trump denies all claims of affairs with either woman. Elite Daily reached out the White House for comment on Cohen's claims at the time but did not hear back.
Judging by his admissions in court, it looks as though Cohen has been delivering on his promise of cooperation. And while he may be disappointed regarding the recommendation, time will still tell, as the sentencing judge does not have to follow the recommendation. I guess we'll all have to tune in again on Dec. 12 to find out what happens.