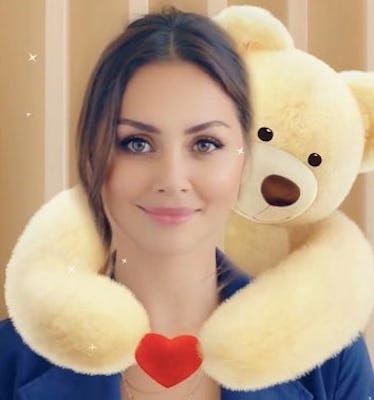 Snapchat's Valentine's Day Lenses Include So Many Fun AR Options & Virtual Cards
Valentine's Day is coming, folks! While it may be customary to show your love with flowers, chocolates, or cheesy paper cards from your local drug store, there's nothing wrong with sending your love and affection to someone digitally. This year, Snapchat is making it easy to say happy Valentine's Day with a ton of lenses created just for the romantic occasion. Snapchat's Valentine's Day lenses will have you seeing hearts (literally) all day long.
Although Valentine's Day 2021 may not be quite the same as past years, you can still find ways to celebrate, whether it's a cozy night at home with your boo or a fun virtual shindig with your BFFs. Snapchat is making it easy to send the cutest snaps to your loved ones, with 26 new Valentine's Day lenses created by the Snapchat team, plus other fun options from previous years and Lens creators. You'll find the lenses by heading to Snapchat's "Explore" page and tapping on the "Valentine's Day" section at the top.
You may recognize some of the lenses from past Valentine's Days, like the augmented reality (AR) "Bear in Love" Lens from 2020. There are plenty of interactive Snapchat Lenses on the table for Valentine's Day 2021, including a full-body AR "Pajama in Heart" Lens and three special Bitmoji Lenses for the loved-up holiday. The full-body V-Day pajama Lens captures you wearing a set of pink, plushy onesie pajamas with a white heart pattern.
The Bitmoji Lenses include the "Heart Kisses" Lens, the "Seductive Kiss" Snapchat Lens, and the "I Heart This" Lens, which places your Bitmoji on the surface of your choice. The "Heart Kiss" option makes your Bitmoji blow heart-shaped kisses, while the "Seductive" iteration does the same with seductive vibes. The "I Heart This" Lens shows your AR mini-me standing with a picket sign with a heart on it, grinning.
Taking the same lovey-dovey theme, most of Snapchat's Lenses for V-Day incorporate hearts. Some of the stand-out options include a full-body "Big Heart" Lens, which basically shows you holding up a gigantic heart wrapped in a gold ribbon, a "Lovely Couple" Lens that places pulsing hearts above you and a photo background of your choice, and a cute "In Love Freckles" Lens.
Another fun addition to Snapchat for Valentine's Day include interactive video lenses. There are a couple to choose from, including the "Kiss Challenge" Lens and the "Love Confession" Lens. Both of these options begin with a countdown from five to let you know you need to prepare for the recording to start. Then, you're supposed to film based on the filter's theme. The "Kiss Challenge," for instance, gives you 20-seconds of video to blow kisses at the camera with an adorable background of pink lipstick kisses. The confession Lens lets you "confess" your love for anything or anyone you want, with a heart-shaped microphone and a teddy bear to set the tone. There's also a photo collage Lens called "Dream Crush," which gives you a spot to upload four photos — one for last year's crush, next' year's crush, this year's crush, and your dream crush. To really get in the spirit, the "Love Language" Lens will help you say "I love you" in different languages.
Of course, if you're going for simpler filters, there are options like a "Let's Date" sunglasses filter, the "Love Day" Lens, which puts you in a rosy filter with a beating heart and the date above you, and a "Valentine's Roses" Lens that places roses on your cheeks, a bit of makeup and freckles, and the text, "Be My Valentine" above your head.
Finally, Snapchat is also partnering with the virtual greeting card app Givingli, so you can send cute Snapchat Minis to celebrate Valentine's Day. Using the Givingli Mini in Snapchat's Minis section, you can create a personalized virtual greeting card for your Valentine for free. All you need to do is take a picture of the below Snap Code with your Snap Camera, and follow the instructions:
When you're taking a break from snapping your bae or best friend you can also enjoy Snapchat's pink Snap Map for Valentine's Day, which likely won't show up until Feb. 14.
Whether you're sending snaps to friends or partners or just posting selfies of yourself in V-Day spirit, Snapchat will be the perfect addition to your Valentine's Day plans.
This article was originally published on