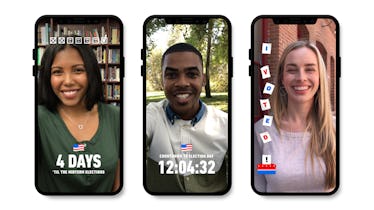 Snapchat Is Going All Out To Make Sure You Don't Miss Voting On Election Day
Snapchat
The midterm elections are a pretty big deal this year, but they historically have low voter turnout, which is why many outlets out there are working to motivate people to get to the polls. Social media platform Snapchat is just one of many companies trying to make sure you do your civic duty on Nov. 6, as it's offering some special new tools just for Election Day. Snapchat's reminder to vote message will totally get you excited and help ensure your voice is heard on Election Day.
A spokesperson for the platform tells Elite Daily that on Nov. 6, Snapchat users (the ones over the age of 18 and who are based in the United States, at least) will get a special snap with a link to Get to the Polls, which helps users find out important election information, such as their polling locations. Snapchat will offer users an array of fun voting-themed filters and augmented reality lenses, including one that announces "I Voted," so you can flaunt your civic responsibility, all while encouraging your friends to get out to the polls.
There's also going to be some exciting things going on with Snap Map. It'll link to Get To The Polls as well, and once users apply a filter or lens to a snap, their Bitmoji avatar on the Snap Map will be dressed in a costume to reflect that they've engaged in the election, which is a fun, instant way to check in on your friends and make sure they've cast their vote. (And maybe annoy them with snaps until they do. Or is that just me? ...Oh well.)
Once voting begins, users will also be able to watch a live-stream of the election results on the app. The coverage will be available through its "Discover" tab starting at 6 p.m. ET, and includes special segments from Good Luck America's host Peter Hamby, The Washington Post, and streaming from local news stations in Florida, Georgia, and Texas. If you swipe over to the "Our Stories" tab, users will also be able to watch snaps from reporters and politicians that are updated throughout the day. Special guests will include leaders from March for Our Lives — student activist organization that fights for tighter gun control — and more.
If it's all too exciting and you just can't fathom waiting until Nov. 6 to use all the cool new filters to come, Snapchat also has some pre-Election Day features just for you. As of Friday, Nov. 2, users will be able to use a variety of nationwide filters that serve as fun reminders that it's almost time to vote. (!!!) The Snap Map also links to Ballot Ready, a website where people can see a sample ballot for their area and find detailed background information of each candidate, helping make Election Day go as smoothly as possible.
With great features like this, casting your vote should be a breeze and you'll make lots of fun Snapchat memories in the process. IDK about you, but this is the perfect 2-in-1 deal that I never knew I needed. Ah, who knew voting could be so fun?