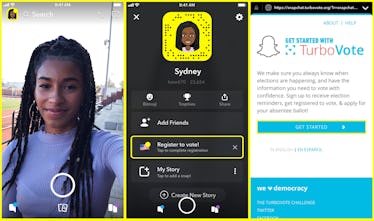 You Can Actually Register To Vote Through Snapchat, So This Couldn't Be Easier
Snapchat
Believe it or not, the 2018 midterm elections are coming up quick. September is already nearing its end — and before you know it, October will come and go. This means it's time to register to vote so you're able to partake in the midterm elections on Nov. 6. Luckily, Snapchat is making it really simple to register. (TBH, it's probably easier to register through Snapchat than it is to decide on a cute filter to send to your friends.) If you aren't registered yet and hope to complete the process via Snap, I'll show you how to register to vote through Snapchat. Trust me: It couldn't be easier.
Snapchat officially launched its voter registration tool on Tuesday, Sept. 25 (aka National Voter Registration Day). The tool became available for Snapchat users who are at least 18 years old, and can be found various spots throughout the app. Once you find the link, you'll be able to register to vote through the made-for-Snapchat TurboVote mobile site. However, before you hop onto TurboVote, you'll need to locate the page — and that's where I come in.
Snapchatters: Get your phones out and prepare to register to vote. It'll only take a few minutes, I promise.
In order to find the main voter registration link on Snapchat, you'll have to navigate to your User Profile page. (FYI, that's where you can view your Story and add friends.) Once you're there, you'll see a brand new link that says, "Register to vote!" Click on it, and you'll be taken to Snapchat's TurboVote site. Once you're on TurboVote, you'll be able to start the registration process. It's literally that simple, guys.
Snapchat's User Profile page isn't the only spot where you can find the TurboVote registration link. In fact, the link appears in a handful of locations throughout the app, including the Discover page. If you navigate to the Discover page, you'll see Team Snapchat's message and video about voting and civic participation. There, you'll be able to find a link that'll bring you directly to Snapchat's TurboVote site. So, if you forgot to check your User Profile page and decided to scan Discover, you'll still be able to register.
But wait! There's more. Snapchat provides a few additional locations throughout the app where you can find the made-for-Snapchat TurboVote link. One location is on Snapchat's actual Story. There, the company's News Team will discuss issues that Snapchat users care about, and provide a link to Snapchat's TurboVote page. After watching, all you'll have to do is swipe up and register.
The last place on the app where you can find a link to Snapchat's TurboVote site is through the company's brand new voting filter. The patriotic filter will show everyone that you've registered to vote (yay!), and will provide an option where your followers can swipe up and register. Easy peasy.
If you haven't registered to vote yet and see one of your friends' voting filters, go ahead and swipe up. Your registration is waiting for you.
Regardless of how you access the made-for-Snapchat TurboVote page, you'll be able to easily register with the touch of a button. After you've registered, go ahead and rock Snapchat's voting filter. Registering to vote is definitely something to be proud of.